BBC News to cut a further 415 jobs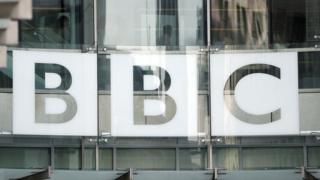 The BBC's News department is to axe 415 jobs as cost-cutting measures continue, the BBC's director of news James Harding has announced.
The move is part of £800m efficiency savings required after the licence fee was frozen in 2010.
The latest cuts are expected to save £48m by 2017.
BBC News currently employs around 8,400 people, including around 5,000 journalists, based in London, around the UK and overseas.
He also set out plans to substantially restructure the news division and put the BBC at the forefront of producing news for the digital age using new technologies.
A total of 195 new posts will be created to fulfil this plan, meaning a net reduction of 220 full-time jobs overall.
Around 70% of the annual running costs of BBC News are staff-related, meaning there would inevitably be an impact in this area, Mr Harding said.
"It will be a testing time of uncertainty and change," he told staff, adding, the "challenge is how to make BBC News even better, despite having less money".
"It means you're going to see good people, talented journalists, leaving the BBC. I think that is difficult."
He added that the BBC would be at the forefront of a "fourth revolution in news" online and on mobile apps, and "delivering ever better value for money is part of that."
---
LOSSES AND CHANGES
More 'single presenter' programmes on the News Channel
Closure of 60 Seconds on BBC Three in autumn 2015, when the channel moves online
Panorama losing its dedicated reporters.
BBC Radio 4's The World Tonight and the World Service programme Newshour will be united under a single editor
The News Channel and World News will merge some output
Fewer staff in Southern Africa and Afghanistan
One post in Home Affairs, Health, Business and Local Government will close
Six posts in Arts and Entertainment will close
GAINS
An increase in the budget for the World Service, from £245m this year to £250m in 2016-17
An £8m investment in original, distinctive journalism, chasing "big stories"
Create a small team to cover the under-reported Afro-Caribbean community
Increase the number of political reporters and city correspondents across England to enhance local coverage
Extra money for Newsnight
Reintroduce a controller for the World Service in English
A new, small specialist unit based in Birmingham reporting on Community Affairs
---
Michelle Stanistreet, NUJ secretary general, said: "These cuts will further undermine the ability of journalists to deliver quality content. Now they plan to get rid of hundreds of staff - using licence fee payers' money to cover the redundancy pay-outs - and then immediately hire in a load more. You couldn't make it up.
"NUJ members won't allow them to get away with it, and we will fight to ensure that there are no compulsory redundancies at the BBC."
Bectu secretary general Gerry Morrissey said: "We will enter into consultation with management and take every step to resolve this matter without compulsory redundancies. We will oppose them by any means necessary, including industrial action."
The department made cuts of 140 posts in 2012-13 and another 75 last year, with around 200 jobs going from the BBC's English regions, which also forms part of the division.
The latest announcement will fuel discontent among staff, who have already called a 12-hour strike for next week in a dispute over pay.
If it goes ahead, the industrial action could affect coverage of the opening of the Commonwealth Games on Wednesday, 23 July.
The NUJ says BBC journalists have seen a 10% pay cut in real terms over the past five years and that too much is being spent on salaries and perks for managers.
The union says 77% of its members voted for strike action, while 79% of Bectu staff came out in favour.
The BBC is meeting with the unions later this week to discuss the latest pay offer.
Meanwhile, the BBC's governing body has said the corporation must improve the appeal of its TV services to younger audience and to black, Asian and ethnic minority viewers.
The BBC Trust's review of BBC One, Two, Three and Four also concluded that BBC One should become more distinctive and take more creative risks.
According to the report, viewers believe the channel tends to "play it safe" and rely on trusted staples such as The One Show and EastEnders.
"More of the viewing of BBC One is based around a relatively small number of titles," said trustee David Liddiment. "We would look to see that list lengthening."