Stirling Prize has no unifying idea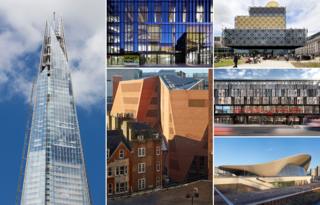 Reviewing the shortlist for an annual award and designing a new building share a fundamental requirement: In both cases a unifying idea is needed. The architect has to make a coherent form from multiple individual elements; the reviewer must find an overall trend or theme revealed by a disparate shortlist. Sometimes the task is easy; sometimes it is not.
The shortlist for the 2014 RIBA Stirling Prize falls into the "sometimes it is not" category. There is no obvious collective aesthetic style, nor is there a unity of purpose. The designs weren't even built at the same time. Zaha Hadid's London Aquatic Centre was a highlight of the 2012 Olympics, an event which took place in the same summer Renzo Piano showed me around his completed but then un-let Shard.
I suppose one could point out that they are all, to an extent, public buildings. There are no private houses on the list. And it's undeniable that all are situated in major English cities - there is no representation from Northern Ireland, Scotland or Wales. Plus, each building is making some sort of public statement of intent, from the Library of Birmingham's role as the physical manifestation of the council's ambition to make the city an international hub for the new knowledge economy, to Liverpool Everyman Theatre's mug-shot covered facade announcing its art-for-all philosophy (I'll leave you to ponder what the Qatari-funded Shard is telling the world).
Perhaps the lack of any apparent unifying idea is the unifying idea. Not in a post-modern mash-up of influences kind of way, but as a reflection of the contemporary nature of architecture.
Like the culture in which these buildings exist, the emphasis is on the individual and the ego. Clients want "starchitects" - or, at the very least, designs that boldly stand out rather than subtly fit in.
Guy Debord talked of a Society of the Spectacle in the 60s; we live in it. And it is that attitude - not an aesthetic - that unites these buildings. One is literally a theatre, the other five aim to be. We are the players for whom the architects have created these sets upon which we are invited to interact, observe and perform.
Shakespeare would be amused: Nowadays all the world really is a stage.