Cher poised to become 2014's highest-grossing tour so far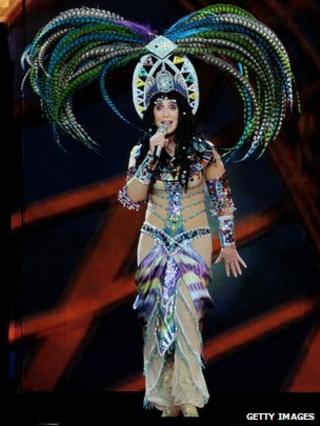 Cher's Dressed To Kill tour is on course to become the highest-grossing tour, so far, of 2014.
The tour has made a reported $54.9m (£32m) during its first leg, which ended last weekend, according to Billboard Boxscore.
It is the singer's first tour since her Living Proof Farewell tour, which ended in 2005 after playing 325 shows around the world over three years.
The second leg of the current tour kicks off in New York on 11 September.
So far Cher has played 49 sell-out shows across the US, to more than 610,000 fans. Tickets are priced between $61-$560 (£35.50-£326).
A show in Las Vegas on 25 May at MGM's Grand Garden Arena has proved the most lucrative venue, earning $1.75m (£1m).
'Granny'
The 68-year-old singer has insisted it is her final tour, nearly a decade on from her previous swansong tour.
"I'm never going to come back, I swear to God," she said, ahead of a gig at Los Angeles' Staples Center last week.
"What's your granny doing tonight?" she added.
The tour marries extravagant reprisals of classic hits such as Believe and If I Could Turn Back Time with more contemporary tracks from her most recent album, Closer to the Truth.
"For all the glitter and high-tech pageantry - the enormous feathered headdress, the aerialists balled up inside two miniature planets, the moving platform she rode above the audience toward the back of the venue - her concert felt reassuringly human, even low-key at points," wrote Los Angeles Times critic Mikael Wood in his review of the show.
"It gave you a sense of the woman beneath the bedazzled loincloth."
US rock band Bon Jovi had the biggest international music tour of the year in 2013, playing to more than two million fans during 90 sell-out shows and grossing $205m (£125m).