Apes actors worthy of awards, director argues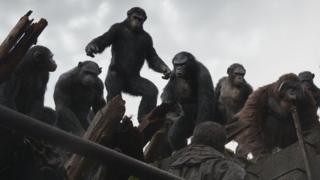 Actors who make use of motion capture technology in order to portray apes and other creatures should be recognised at film awards, according to the director of the new Planet of the Apes film.
"They do deserve awards recognition and those categories are already there," says Matt Reeves.
Britain's Andy Serkis, he says, should be in contention for best actor prizes for his portrayal of ape leader Caesar.
"If you're moved by Caesar you're moved by him.
"He's putting his heart and soul into it. If you're responding emotionally to Caesar, you're really responding emotionally to what he has played."
Serkis has emerged as a leading proponent of motion or performance capture, mostly thanks to his portrayal of Gollum in the Lord of the Rings and Hobbit films.
The technology maps the movements and facial expressions of a human actor onto a digital creation that can then be made to interact seamlessly with other human actors in a real-life setting.
The 50-year-old first portrayed Caesar, an ape bestowed with superior intelligence, in 2011's Rise of the Planet of the Apes, a prequel to the original Planet of the Apes film released in 1968.
Dawn of the Planet of the Apes, released in the UK and Ireland this week, continues the story that film began, as Caesar faces fresh threats to his family and tribe from a band of survivors of a deadly pandemic that has decimated the earth's human population.
The conflict that follows sees the film's computer-generated simians ride horses, fire guns and use a form of sign language to communicate with one another.
Caesar also has the power of speech, allowing him to converse with an architect (Jason Clarke) who strays into the apes' woodland haven just outside San Francisco.
US actress Judy Greer and British actor Toby Kebbell are among the other performers to appear in ape form in the film, which has been enthusiastically received by critics on both sides of the Atlantic.
'Incredible artistry'
Opinions vary over whether a performance dependent on assistance from visual effects technicians can be considered comparable to one given on screen by a flesh-and-blood actor.
Serkis has argued that the process should be considered as "digital make-up", a controversial term some believe minimises the contribution made by computer animators towards the end result.
Speaking this week, Reeves is quick to praise the work of New Zealand-based Weta Digital, the company behind the photo-realistic animals seen in his film and its predecessor.
"What they do takes such incredible artistry, because they are following the performance," he explains.
"They have to pursue a way to translate the emotion Andy is giving onto the anatomy of an ape.
"My feeling is that there are two categories that apply to the artistry in this film that are in the Oscars already.
"One is performance by an actor, because that's what Andy is and that's what he does. The other is best visual effects, and there's no question that's what Weta are doing."
The costly and time-consuming technique differs from that used in the original Planet of the Apes film and its sequels, which employed then-revolutionary cosmetic make-up effects.
Reeves admits to being "obsessed" with how the Apes looked as a child but says he would not choose to replicate that now, as Tim Burton did in his 2001 Planet of the Apes remake.
"From a film-making perspective, what motion capture provides is so far beyond what you can do with prosthetic make-up," he says.
"If you'd asked me when I was a kid, though, I would have wanted to do it the original way."
'Poorly considered'
The new film's British contingent is swelled by the presence of actor Gary Oldman, who plays the leader of the survivors' makeshift community.
Oldman made headlines ahead of the film's North American release by giving an interview to Playboy in which he made outspoken comments about the film industry, the Golden Globes and political correctness.
The 56-year-old subsequently issued a public apology for his "poorly considered" remarks that he subsequently repeated on Jimmy Kimmel's US chat show.
Reeves, 48, is understandably reluctant to revisit the incident but remains effusively complimentary about Oldman's contribution.
"Things can be so quickly taken out of context that you have to be very careful," he says. "It's very easy to say something offhand that can be taken a million different ways.
"Gary is a hero of mine and a fantastic person. He's an incredible actor and I'm so happy to have worked with him."
Dawn of the Planet of the Apes has already been a box office success in the US and Canada and a follow-up is now in the pipeline.
Reeves is scheduled to return to the director's chair but has no beans to spill at this stage about the film's plot or title.
"We don't have anything official yet, but I know that a lot of people have a strong reaction to the number of 'Of Thes' in our titles," he admits.
"It'll be interesting to see if we can have a title that doesn't have so many. They don't really come trippingly off the tongue."
Dawn of the Planet of the Apes is now on general release in the UK and Ireland.