TV channel fined £100,000 over killer documentary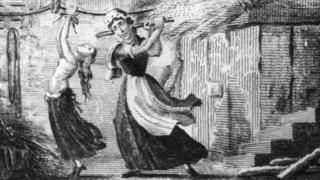 TV channel Investigation Discovery has been fined £100,000 for showing a crime series about female killers before the 21:00 watershed.
Ofcom ruled that the repeated broadcast of Deadly Women "resulted in serious breaches of the Broadcasting Code".
The shows, it said, contained "graphic and disturbing... reconstructions of torture, mutilation and murder".
Such sequences, it went on, "were highly likely to have caused distress to any children in the audience".
According to Ofcom, Investigation Discovery broadcast eight episodes of Deadly Women at various times during the morning and afternoon on 16, 18 and 20 August, 2013.
It criticised the satellite channel for showing the programmes "during the school holidays when there was a significant likelihood that children would be available to view".
Deadly Women, it said, featured "attacks on individuals with hammers and knives, electrocutions and whippings... and the dismemberment of a corpse with a circular saw".
One of the programmes, broadcast at 07:50 BST, included a segment about Elizabeth Brownrigg, an 18th Century woman who was hanged for torturing orphans in her care.
Discovery Communications Europe, which owns Investigation Discovery as well as the Discovery Channel, Animal Planet and TLC, accepted it had breached the code and apologised "unreservedly" for airing the programmes in an "entirely inappropriate time-slot".
"It was a genuine error and all previous series were correctly classified and shown post watershed only," it said in a statement.
"We have put in place additional procedures to prevent a recurrence of this issue."
The fine equals that levied against Playboy TV last year for not putting sufficient controls in place to check its users were aged 18 or over.