Ofcom resolves BBC Daily Politics swearing case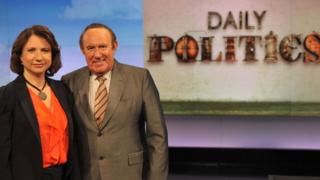 BBC Two's Daily Politics Show has been cleared by broadcasting watchdog Ofcom after a Conservative MP swore during a live edition of the daytime programme.
Five viewers complained after former police minister Nick Herbert used a swear word while quoting another guest.
He was interrupted by host Jo Coburn who offered a full apology at the end of the show in May.
Ofcom was satisfied there were unlikely to be younger viewers watching and Coburn had intervened promptly.
But it used the case as a reminder to all broadcasters to "consider carefully" their processes for briefing guests appearing on live programmes.
The BBC said that it had not briefed Mr Herbert ahead of his appearance and that this was common practice as it was "reasonably assumed that figures in political life are aware of the need to avoid using offensive language".
The watchdog also considered that Mr Herbert was quoting directly from the online comment of another guest.
During the programme, Mr Herbert had been asked whether police would react badly to a recent speech made by Home Secretary Teresa May.
In his response, he quoted a disparaging remark which he claimed fellow guest and former policeman Peter Kirkham had made on Twitter about Mrs May.
Coburn interrupted the politician, telling him "we won't have any more of that" and cautioned him to speak "without repeating any of those expletives".
Mr Herbert later defended his actions, saying he had used the term "disapprovingly".
In addition to the presenter's on-air apology, the BBC also issued a formal apology saying: "Daily Politics is a live programme and, as with any live broadcast, occasionally slip-ups may happen.
"We apologised to viewers for any offence caused."