Dawn of the Planet of the Apes thrashes Transformers in US box office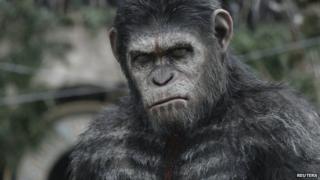 Dawn of the Planet of the Apes has burst into the North American box office taking $73m (£42.6m) in its opening weekend.
It easily topped the chart, which saw Transformers: Age of Extinction slip to second with $16.5m (£9.6m).
The Apes epic also picked up another $31m (£18m) from international markets.
Set 10 years after 2011's Rise of the Planet of the Apes, the sequel follows the battle for dominance between humans and intelligent apes.
Andy Serkis has reprised his performance-capture role as Caesar, the ape who leads his species after encountering a colony of humans who survive a deadly virus.
Serkis also famously played Gollum in the Lord of the Rings and Hobbit films, which also used performance capture, which electronically tracks an actor's movements and expressions so they can be translated into computer generated imagery (CGI).
Second sequel
Directed by Cloverfield's Matt Reeves, it also stars Gary Oldman, Keri Russell and Jason Clarke.
It opened more strongly than its predecessor, which took $54.8m (£32m) during its opening weekend.
A second sequel to be directed by Reeves is already in the works to further extend the franchise which first began with 1968's Planet of the Apes, based on Pierre Boulle's French novel.
Four movies followed in the 1970s, as well as a critically panned 2001 reboot by Tim Burton.
Elsewhere on the chart, Melissa McCarthy and Susan Sarandon comedy Tammy - about a fast food worker who gets fired and takes her hard-drinking grandmother on a road trip - was at three with $12.9m.
Sequels 22 Jump Street and How to Train Your Dragon 2 took the fourth and fifth spots with $6.7m (£3.9m) and $5.9m (£3.4m) respectively.
---
North American box office
1. Dawn of the Planet of the Apes - $73m
2. Transformers: Age of Extinction - $16.5m
3. Tammy - $12.9m
4. 22 Jump Street - $6.7m
5. How to Train Your Dragon 2 - $5.9m