Angelina Jolie: UK woman makes Malta wedding plea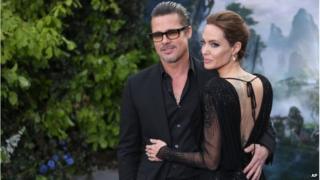 A British woman is asking Angelina Jolie to save her Malta wedding, after her chosen venue was closed to make way for the Hollywood star's latest film.
Maria Arpa, a charity executive from London, hoped to get married on Gozo's Mgarr ix-Xini beach this October.
But three weeks ago she learned that the council had put all permits "on hold" to make way for the US film star.
Arpa is now reaching out to Jolie and her partner Brad Pitt in the hope "they could find some way to accommodate us".
"I'm sure Angelina Jolie and Brad Pitt would have no idea that they have ruined our wedding plans but I would like them to hear about this," she told the BBC.
"My only hope is I can have a conversation - not necessarily with Angelina Jolie herself - and know a message has gone from me to her.
"I don't want to cause trouble. I don't want to get compensated. I don't want to stand in the way. I'd just like to have satisfied myself that I've done everything I can to have the wedding we'd planned."
'Experimental film'
Malta's prime minister Joseph Muscat announced in July that Jolie and Pitt had selected Gozo, which is part of Malta, as a filming location for their next project.
The couple previously stayed on the island when Pitt filmed World War Z there in 2011.
"We will be delighted to host Mr Pitt, Ms Jolie and their family for the second time in just a few years," the Prime Minister told Us Weekly.
"I'm sure that this film will help put our beautiful sister island of Gozo on the world map," he added.
The untitled project will be the couple's first film together since the action comedy Mr and Mrs Smith in 2005.
Jolie, 39, has described the new film as an "experimental, independent-type" project, telling US TV show Extra: "It's not a big movie, it's not an action movie.
"It's the kind of movie we love but aren't often cast in. It's a very experimental, independent-type film where we get to be actors together and be really raw, open, try things."
Malta currently offers film-makers a 27% cash rebate if they base their production in the country. Englebert Grech, head of the country's film commission, says foreign film companies inject up to 40m euro (£32m) into the Maltese economy every year.
Grech said Arpa had never been given an official permit for her wedding, but she maintains that she had been given a "verbal OK", allowing her to go ahead with the wedding.
"The guests are invited, the flights are booked, the invitations have gone out," she said.
"At the end of the day, of course we can do it somewhere else," she said, but added that the secluded bay of Mgarr ix-Xini held a "special significance" for her and her fiance David Ellis, 51.
Local mayor Philip Vella said all permits for the bay were currently suspended as no-one knew how long the area would be required for filming.
"Everything is on hold as we don't know the exact dates," he told the Times of Malta. "We're also not giving permits to people who would like to hold barbecues in the area.
"We might need to locate an alternative spot, but there is still the possibility that the couple might be able to hold their wedding in Mgarr ix-Xini after all. It all depends on the dates."
Meanwhile, Arpa has been trying to reach Jolie's representatives without success.
"Why can't I just ask another human being to help me out?" she said. "It's just like asking a favour of a neighbour.
"If it was the other way around, I know I would do anything it took to help her out."