Football commentator Brian Taylor apologises for gay slur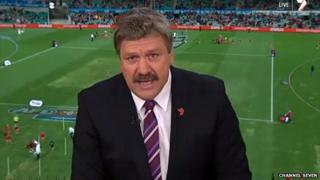 Australian rules football pundit Brian Taylor has apologised after using a homophobic insult to describe a player who gave a "royal wave" to the crowd.
His remarks came as defender Harry Taylor was hoisted onto his team-mates shoulders to mark his 150th game.
"I've just seen that crap from Harry. He's a big poofter," said the commentator. "Next thing you'll have your mum and dad out there."
TV network Channel Seven said he would be given "education and counselling".
There was swift condemnation of Taylor's comments online, and he apologised during a subsequent broadcast on Saturday night.
"In the pre-game show I said something that I regret," he told viewers. "I sincerely apologise ... to Harry Taylor and anyone - particularly Harry and any of his friends - that were offended by my remark," he said.
"I apologise for that and I sincerely regret any harm that I have caused. So, sorry for that."
The presenter also said he had apologised to Harry Taylor personally.
Lewis Martin, the managing director of Seven Melbourne, said on Sunday: "Comments such as those made last night are unacceptable and should not and will not be tolerated."
Taylor's co-host, Hamish McLachlan, said the commentator was "kicking himself" over the comments, but would remain on air.
"We recover from these problems through education and awareness," McLachlan said.
The Australian Football League, the governing body for Australian rules football, recently launched an initiative to tackle homophobia in the game.
"Discrimination is never acceptable," said Chief Executive Andrew Demetriou, as he announced the scheme in April.
"Vilification based on sexual identity is just as serious an offence as vilification based on gender, race, religion, colour or special disability."
Time off
Taylor, 52, was a professional footballer in his youth, playing for both Richmond and Collingwood.
In 1986, he won the prestigious Coleman Medal after scoring 100 goals in a single season.
He retired in 1990 following a series of knee injuries, and became a coach before embarking on his broadcasting career.
Following his on-air apology, he decided to step down from his commentary commitments on radio station 3AW for the rest of the weekend.
"I've spoken to management and they have chosen to give me a day off to collect my thoughts, so I'll take the opportunity to have a day off," Taylor said in a statement.
"My apology of last night absolutely stands unequivocally.
"I made a blue," he added. "I apologised accordingly at the first opportunity to the Seven viewers where I made the blue."
Nonetheless, 3AW manager Shane Healey said he took the incident "extremely seriously".
"We just want to let our listeners know that we'll be talking to Brian tomorrow and we'll be certainly commending to him some quite serious counselling," he said.