David Mitchell to put next work on Twitter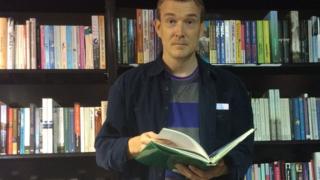 Cloud Atlas author David Mitchell is to publish his next work on Twitter.
The British writer has penned a short story, titled The Right Sort, in 140-character instalments.
It will be serialised in clusters of about 20 tweets at a time over the next seven days. In total there will be 280 Tweets.
But while embracing the artistic potential of social media, Mitchell himself is not a tweeter and had to open a Twitter account for the project.
"I'm not really a social media animal," he told the BBC.
"I like my privacy... I don't want to make public the ante-rooms of my mind. I don't want to add to this ocean of trivia and irrelevance, it's already vast and deep enough."
But Mitchell has a new novel to promote - The Bone Clocks is coming out in September.
His publishers persuaded him to open an account - @david_mitchell - to raise awareness of the book and events planned around it. They tweet on his behalf.
'Gimmick chaser'
The Man Booker-shortlisted author said it would be "disingenuous" not to acknowledge the Twitter story is a clever marketing tool to help spread the word about the new novel.
But he insisted he did not want to feel like a "gimmick chaser" - it was to find a justification for "using this Arab Spring-size technology" and "to retain some semblance of integrity", that he came up with the idea of writing a "good" story on Twitter.
Set in 1978, The Right Sort is narrated by a teenage boy who discovers the drug Valium.
It is while he is" tripping out" on the drug he delivers the story in "a sequence of nice little throbs and pulses - those are the Tweets"."
"He's basically thinking in tweets because of the Valium," Mitchell said.
The author - who was selected as one of Granta's best of young British novelists in 2003 - said he still had no intention of becoming a regular tweeter, but would not rule out writing another story for the platform, if The Right Sort is a success.
"It was really pretty challenging. It wasn't easy. But I like tight straitjackets," he said.
"Maybe you actually need this fairly ridiculous 140 character limit to be obliged to work out something new."
The Right Sort is a stand alone work as Mitchell does not think it would be fair to expect people to buy his new book to make sense of it.
"But it is set in the same universe where possibly the clause of mortality that is written into the contract of life is negotiable," he said.
Mitchell is one of the most high-profile authors to publish a story on Twitter.
Pulitzer-prize winning American author Jennifer Egan also published her short story Black Box on the site in 2012.
Neil Gaiman, Melvin Burgess and Philippa Gregory have also experimented with different forms of "Twitterfiction".