Travellers' tale wins prize for debut children's authors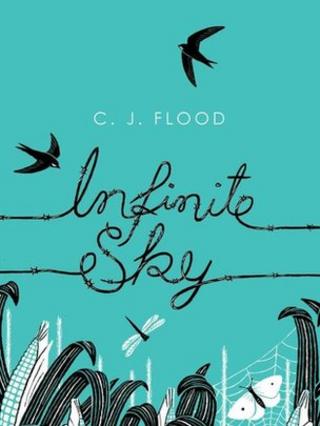 Infinite Sky, a story about travellers and prejudice, has been awarded the Branford Boase prize for debut children's writers.
Author CJ (Chelsey) Flood and her editor Venetia Gosling were recognised at a ceremony in London from a shortlist of seven.
The writer said she was "really thrilled" with the prize.
The judges described the book as "beautifully written, thought-provoking and containing a depth of emotion".
"Most importantly, we all agreed that we can't wait to read what Chelsey writes next," added chairwoman of judges Julia Eccleshare, children's book editor of The Guardian.
The story centres on the friendship between Iris, a girl who lives on a farm, and Trick, a boy from a community of travellers who set up camp next door.
Their relationship intensifies and has far-reaching consequences.
Flood, who has a Creative Writing MA from the University of East Anglia, added: "Lots of my favourite writers have won it in the past and I am honoured to be on the list alongside them.
"It is a real boost to my confidence as I continue work on my next book, and I am very happy that my editor gets some much-deserved acknowledgment too."
Winning editor Venetia Gosling said of Infinite Sky: "The writing was so beautiful and assured, it was immediately obvious that Chelsey was a real talent. It's a privilege - and responsibility - to be able to help launch the career of a writer you passionately believe in."
The panel of judges included Wendy Cooling, author and bookshop owner Tamara Macfarlane, former librarian Alec Williams, and last year's winning author Dave Shelton.
Shelton won for his enigmatic tale A Boy and A Bear in a Boat. Previous winners include Annabel Pitcher for My Sister Lives on the Mantelpiece (2012) and Marcus Sedgwick for Floodland (2001).
The award - worth £1,000 - is unique in honouring the editor of the winning title, highlighting their role in bringing new work to the fore.
It was set up in memory of the prize-winning author Henrietta Branford and her editor Wendy Boase - who both died of cancer in 1999.