Martin Freeman gets mixed reviews for his Richard III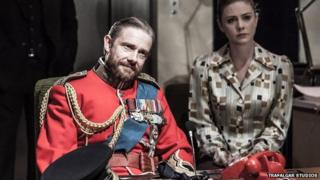 Martin Freeman has divided critics with an "ingenious" but "complicated" production of Richard III.
Transporting the action to the 1970s, the play largely takes place in a boardroom, where the king's barbaric streak is only gradually revealed.
But "Freeman doesn't radiate a sufficiently dangerous sense of unpredictability," wrote Paul Taylor in the Independent.
He "seems like a boy sent to do a man's work", agreed the Telegraph's reviewer.
"There is a gaping hole where the charisma ought to be," wrote Charles Spencer, "and his seduction of Lady Anne, which is normally so creepily erotic, has hardly a spark of sex about it.
"Just as disappointingly, Freeman largely fails to capture the blackly comic humour of the character."
Variety magazine disagreed, saying Freeman "nails the self-satisfied psychopathic side with tiny, well-placed bursts of self-satisfied humour.
"Even when furious at his loss of control and power, he always keeps the audience with him because he never shouts or loses control."
'Ingenuity'
The magazine's reviewer, David Benedict, also praised the production's "clarity", with a contemporary setting in which "characters and, crucially, their status becomes immediately clear".
"It was quite a funny in-joke of director Jamie Lloyd's to play the action just after 1979 and the Winter of Discontent, given this play's famous opening line," added Ben Dowell in the Radio Times.
"What Lloyd imagines is a Britain exhausted by civil war now facing a military coup (having drawn on the well-sourced claim of a real-life MI5 plot against the Labour Government of the era)."
Others were less impressed. "I am not sure that this updating clarifies the politics of the play," said the Independent's Paul Taylor.
"The setting has its drawbacks," added Sarah Hemming in the Financial Times. "It's sticky to begin with: the early manoeuvring is hazy and the battle over hereditary succession sits awkwardly with political machinations."
The staging falls flat, agreed The Guardian's Michael Billington, despite its "undeniable ingenuity".
"Lloyd's production looks physically constricted, misses the sweep and grandeur of Shakespeare's chronicle and, in place of the demonic exuberance, offers us a peculiarly bloodthirsty display of office politics."
The gory violence - including a scene in which Richard strangles Lady Anne with a telephone cord - was noted by most critics, who called the murders "chilling" and "brutal".
Previews of the play, which began last week, saw audiences criticised for a lack of "etiquette" as "over-excited" fans of The Hobbit and Sherlock applauded Freeman at inappropriate times.
This behaviour was conspicuous by its absence on press night, although the cast received a standing ovation as the curtain fell.
But Den of Geek - a website not usually given to reviewing Shakespeare - defended the actor's fans.
"Some of the early audiences may have arrived ready to love Freeman, and frankly, he gives them no reason not to," wrote Louisa Mellor.
"It's a dynamic central performance inside a blackly comic approach to the play. Crucially, that approach is also an accessible, lively one for newcomers and those more used to getting their thrills from TV and cinema screens.
"Freeman fans will be thrilled."