La Roux 'may never listen to this album again'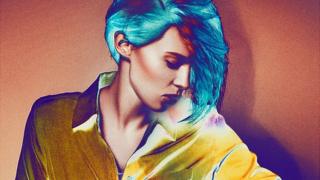 La Roux aka singer Elly Jackson has returned with a follow-up to her Grammy award-winning self-titled debut album.
Trouble In Paradise is the first new music from La Roux in nearly five years and comes following her creative split from her songwriting partner Ben Langmaid.
Hi Elly, we've been reading some of your recent interviews and everyone is making a big deal about the five years between albums, as though you recorded the first one then disappeared for half a decade.
Thanks, you're the first person who has said that, as if you could possibly release another album the same year as your debut came out. It's very strange. The last thing we did on that record, the last promotional thing was the Grammys in 2011. Which isn't as long ago, but to me that's only three years and I think that nowadays it does take longer to make a record that feels fresh and if you want to do something quite particular, which I did, and find the right people to work with.
I had other things going on in my life that I had to sort out. And I don't think that the two years we spent on this record is actually too long. Maybe it is, I know there are other records that have taken a year. It felt like a long time to be away but it didn't feel like a long time to make a record if that makes sense.
It wasn't really that long if you compare it to the 14 years Guns N'Roses took to make Chinese Democracy or the five years between The Stone Roses debut and Second Coming.
No I don't think it is but in the current climate maybe it is because things are quicker now, artists don't hang around as much as they used to. You don't get many 20-year careers any more and people are more used to seeing artists come and go and I know that some people expected me to disappear off the face of the planet. But it's not easy knowing that either.
You were just 21 when the album came out, what lessons have you learned about the industry since then?
I don't know because everything was so different, it's like I can't take in any of the lessons on that record. They're completely different beasts, it was a completely different time, I'm a different person. The first record was very singles-based and it was like a big whirlwind of excitement. I think I've learned to stay calm. I still have a temper like you wouldn't believe and I do get enraged about things I think are important but I think I learned about staying calm generally and not panicking about things. I just don't look at my diary anymore, that's one of the biggest lessons. Just take every day one by one.
To say the album was born from a period of heartache is an understatement. You split with Ben and ended up re-recording the whole album. What was that process like?
It's not something I want to focus on because I have talked about it a lot, so I'll try and focus on the positives. It was actually a great thing because I felt it was right for music. Of course it was hard but it wasn't as hard as doing something I felt was wrong for me artistically. That's the best way of putting it.
But you've called the album Trouble In Paradise, surely people will read into that title.
They shouldn't read into it in the way that I think they will. Trouble In Paradise is certainly not in reference to any of the things that have been written about. It's slightly in reference to the voice issues [Jackson lost her voice due to a throat problem in 2011] but it's mostly in reference to the things that are going on, thematically, in the record. In terms of what's going on in Tropical Chancer (about an holiday island love affair), what's going on in Sexotheque (about a man who explores his sexual proclivities at night) and Let Me Down Gently and in terms of the visual impact. There's a cheeky joyous element but it's also uncomfortable, hence me looking like I shouldn't be there on that car.
You've really channelled the spirit of David Bowie in his 'Thin White Duke' phase on that cover. Could you fit into his famous 26-inch waist trousers?
I don't think I could actually, I think he's thinner than most female models to be honest.
The album has a real Caribbean feel with shades of Grace Jones, why were you after this kind of sound?
It's exactly what we wanted... to inject a slice of that culture and those records that we love but do our own thing with. But still make it sound intrinsically like La Roux. We hope it sounds more like us than any of the references on the record. All the music I like is from a time gone by. The musical production that Sly and Robbie have created is just brilliant, most of the Grace Jones records, you don't need Grace singing on it, it's just a massive bonus that she is. There's not as much reliance on the vocal as there is now. We really wanted to inject that into the music.
Do you have a favourite track? How do you find listening to the album?
I do have a copy of the master but I don't have a copy of the album but I did listen to it a few times all the way through. It's a weird thing making a record, we're so close to it, every single millisecond of the record we know, so we're always going to think, 'I could have done that better,' so it can be painful. I didn't listen to our debut album once after we released it. I think I'm more emotionally attached to this. Now that I'm doing it live, I won't listen to it, maybe I never will again, I don't know. But I enjoy playing it live, which is what it becomes.
Musicians never say they listen to their own stuff. It always sounds weird.
It sounds weird to say it but all I can say is the same as everyone who makes music, you'll never get to hear your music like other people hear it, which is a great thing. When you write that first melody or that first arrangement, whatever it is, you're the only person or people who will ever hear that for the first time and it is a high that I can't describe. I don't make music for when it's finished, I make it for the start, that's the exciting bit. It's the idea that excites you. We've had our time with it, when we're dancing around the studio with the idea, playing the loop again and again. Once you've finished, you've already done that bit and it is time to hand it over and I know that sounds cheesy but it's true. It's not for us anymore.
Trouble in Paradise is out on 21 July.