Awards for hit singles upgraded by streaming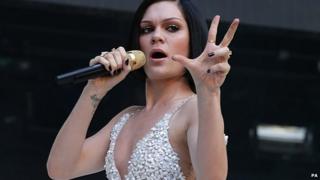 Eighty singles have been given gold, silver or platinum discs after the award rules were changed to include streaming data as well as sales.
Jessie J's Price Tag and Clean Bandit's Rather Be were given double platinum status under the new criteria.
We Are Never Ever Getting Back Together by Taylor Swift and Fix You by Coldplay were upgraded from gold to platinum.
Artists are awarded different levels of certification for their songs based on a series of UK sales milestones.
Until today, a song needed to sell 600,000 copies to be awarded a platinum disc. Under the new system, every time a song is played on a site like Spotify or Deezer, it will count towards that total, even though the listener has not purchased a copy.
Music industry body BPI, which administers the awards, said the audio streaming data had been backdated to the start of the year, and used the same formula as the official UK chart, which began counting music streams in the Top 40 last week.
Ariana Grande topped the first combined chart with her single Problem, which included 712,000 streams.
The Official Charts Company says each track must be played for 30 seconds before counting as one stream, with 100 streams the equivalent of one sale.
Streaming has increasingly become key to the music industry, with 7.4 billion streams in 2013, a figure which is expected to double over the course of this year.
Other songs to benefit from the BPI's adjustments included Dolly Parton's Jolene and Champagne Supernova by Oasis, which were awarded silver discs for sales of 200,000.
Beyonce's Drunk in Love and Best Song Ever by One Direction achieved gold status, representing 400,000 units.
Songs are awarded platinum status for 600,000 sales and over, while a track which shifts 1.2 million units is given double platinum status under the awards scheme, which was introduced in 1973.
Geoff Taylor, chief executive of the BPI, said: "The BPI's certified awards and Platinum, Gold and Silver discs form part of our country's music heritage, so including audio streams in the sales data for singles represents an important landmark.
"It will ensure that our awards remain relevant and up to date in measuring the popularity of our favourite recordings."