Olympics writer Cottrell Boyce pens Doctor Who outing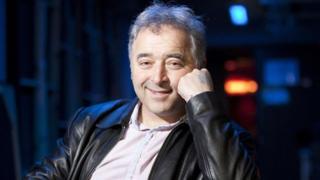 Frank Cottrell Boyce, a scriptwriter for the London Olympics opening ceremony, has penned an episode of the new Doctor Who series.
The outing scripted by the children's novelist will feature a host of young actors, including Harley Bird, the voice of Peppa Pig.
The author said he was "flabbergasted" to be asked to create an episode.
He completes the line-up of scriptwriters on the new series, which begins on BBC One on 23 August.
Mark Gatiss, Phil Ford, Gareth Roberts, Peter Harness, Steve Thompson and Jamie Mathieson have also been announced as scriptwriters for the eighth series of the sci-fi show, the first full outing for actor Peter Capaldi in the lead role.
The first episode, entitled Deep Breath, is written by Steven Moffat, the show's lead writer and executive producer.
Cottrell Boyce, who also worked on films 24 Hour Party People and Millions - directed by Danny Boyle - said: "Of all the thrills that pen and paper have brought into my life, there's nothing that quite compares to the buzz of unlimited possibility that rushes through your fingers and into your brain when you write the words: 'Interior … Tardis'."
"I've been so absorbed in the last few series that I'd sort of forgotten that it wasn't real."
Moffat called the episode "pure genius".
"And everything I could have hoped for from the genius behind the Olympics opening ceremony. Doctor Who is born anew in the mind of a genius!" he added.
The new series of Doctor Who will also feature a number of star guests, including Keeley Hawes, Ben Miller and Frank Skinner.