Aardman film for revamped London war museum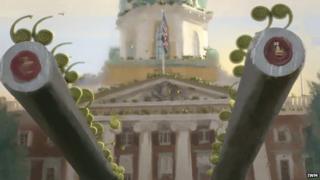 Aardman animation has created a film about World War One to mark the opening of new galleries at London's Imperial War Museum (IWM London).
Flight of the Stories, which combines 2D illustrations and 3D CGI animation, depicts personal stories and letters from the fields of northern France.
The short film will be screened online and in cinemas from Monday, 7 July.
IWM London will reopen on 19 July following a six-month closure while the space was revamped.
It now includes new World War One galleries and a transformed atrium space.
The stories and letters depicted in the Aardman film are all from soldiers who lost their lives in France.
The film includes lines read from the thousands of letters and diaries given to IWM by relatives during and after World War One.
'Our duty'
Darren Dubicki, director at Aardman, said: "We took an idea that was to create a powerful piece of imagery that is suggestive of the paintings from the era coming to life."
Diane Lees, director general of IWM, added: "Flight of the Stories captures exactly what we were trying to convey - for while it is true that some of the people never made it back from the fighting front, their stories have, and it is our duty at IWM to ensure that they continue to be told.
"This is what we will be doing in our new First World War galleries, throughout the centenary and beyond."
When the IWM re-opens, there will also be a new exhibition running - Truth and Memory; British Art of World War One.
The transformation of the gallery cost £40m. The money was raised by funders, sponsors, the heritage lottery fund and the Department of Culture, Media and Sport.