Anna Chancellor leads Royal Court revolution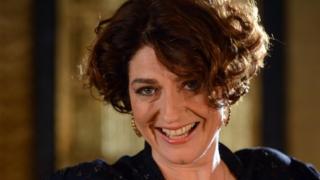 Anna Chancellor is to star as a woman who leads an uprising across Middle England in a new play at the Royal Court.
Rory Mullarkey's The Wolf from the Door sees Chancellor's Lady Catherine "on a mission to change the country forever".
It kicks off a season of plays at the London venue themed around revolution and resistance.
The season includes a "mischievous" adaptation of Roald Dahl's The Twits by Enda Walsh in 2015.
Another new work, the deliberately mis-spelled Teh Internet is Serious Business, tells the story of internet activist group Anonymous.
"We didn't set out to create a season of work with a theme but could not ignore the message coming from our playwrights," said the Royal Court's artistic director Vicky Featherstone.
"All of these plays are about revolutions - big and small acts of resistance. They are provocative, diverse and timely. They are great stories, inventively told and demanding that we consider a better future."
Unveiling the autumn/winter line-up on Friday, Featherstone described The Wolf from the Door - opening in September - as "a cry of rage".
In autumn 2015, the play will go on a UK rural tour to 20 village halls and community centres. It is not yet known if Chancellor will reprise her role on the tour.
Teh Internet is Serious Business has been written by Tim Price with advice from original members of the Anonymous group of "hacktivists" who attacked the FBI and "powerful capitalist forces" from their bedrooms.
"These young men were fearless," said Featherstone. "They began a new way of thinking. It was a huge act of resistance from them and it ended up with prison sentences and the law having to be changed because of what they had done."
Other plays in the season include God Bless the Child, by Molly Davies, about a classroom mutiny by children at a primary school. The cast will include five eight-year-olds.
Jack Thorne's political play Hope explores the funding squeeze on local government. Thorne made his Royal Court debut last year with his adaptation of vampire drama Let the Right One In.