BBC rural coverage has 'metropolitan bias'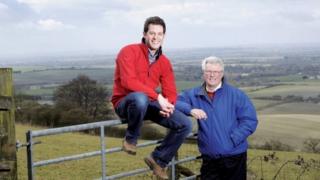 Some audiences feel the BBC's rural coverage has a "metropolitan bias", an independent review has found.
It also found some people thought coverage was "squeamish" and "simplistic".
But specialist programming, such as Countryfile, was praised and found to be "highly regarded".
The review was commissioned by the BBC Trust and carried out by Heather Hancock, who formerly chaired the BBC's rural affairs committee.
"Network news coverage can be simplistic and, on contentious stories, too often focuses on protest rather than the underlying issues," said the review's findings.
Ms Hancock found that, taken as a whole, across TV, radio and online, the BBC's coverage of rural affairs included a wide range of voices and that programming and news stories were considered to be "impartial".
Countryfile and Farming Today were said to be examples of specialist programmes which were "highly regarded and broadcast a wide range of opinions and thoughtful analysis".
It also found "coverage of rural affairs in Scotland, Northern Ireland and Wales was strong with a good range of interviewees and nuanced understanding of the issues".
And network programmes that travelled across the UK, such as Question Time, were good at airing opinions and stories from rural areas that "were not otherwise heard at network level".
'Disservice'
But on the flipside, her review said news and current affairs output from rural England did not appear to be reaching the BBC's UK network programmes.
In addition, BBC coverage of controversial rural stories was found to be be falling short, scared of tackling issues head-on.
Coverage of the trial badger cull was praised in general but was criticised for "the predominant use of images of healthy badgers to open or conclude a report" which were seen to favour those opposed to the cull.
"People asked where were the pictures of sick badgers with TB, or infected cows being shot, or a distraught farming family coming to terms with the loss of their animals," the report said.
Country Life editor Mark Hedges, who gave evidence for the review, said coverage was often sanitised and did " the countryside a real disservice in the process".
"You've got to show how food comes about - what the realities of life are ... The BBC is incredibly squeamish about the countryside," he said.
The review also found that the BBC gave weight to a small number of organisations on rural issues in its news coverage, and that there was a tendency to focus on conflicts or protests.
Rural correspondent
Audiences felt that, on occasions, there was an unintentional urban bias in network news coverage from England and that the focus on Westminster had an impact on how stories were covered and on opinions sought for comment.
Ms Hancock said: "Overall, the BBC does a good job in reporting accurate, balanced and impartial rural stories. However, there is room for improvement.
"In England particularly, rural stories and rural lives could be more fully represented in nationwide output.
"I found that the BBC relied disproportionately on a small number of external bodies for input and comment. A wider range of voices would broaden the opinions offered to audiences. There was a tendency to focus on the environmental aspects of rural UK: this should be balanced by the economic and social dimensions."
Among her recommendations was that the BBC should re-establish the role of rural affairs correspondent.
BBC trustee Alison Hastings said: "The 12 million people in the UK living in rural areas must have confidence that the BBC is both reflecting their lives and, where relevant, telling national stories from a rural perspective.
"We welcome Heather Hancock' s overall conclusion that the BBC's rural coverage is impartial and her praise for many areas of BBC programming, but the BBC must serve all audiences.
"To this end it must tackle the deficit in its network coverage of rural England, and broaden the range of voices it features on rural issues on network news."
A BBC spokesperson said: "Whilst the report finds overall we do a good job reflecting and reporting rural affairs there are areas where we can do better and we have committed to a range of steps to help improve the coverage further."