Arts Council England funding: Crunching the numbers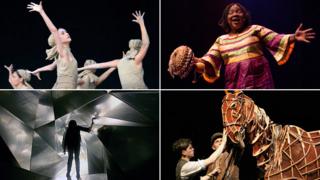 Another funding crisis in the arts has been averted thanks to a suitably creative solution. But questions remain over diversity and regional equality in the arts.
Arts Council England (ACE), which funds hundreds of theatre, art, dance and other cultural venues and producers, has just announced who will get annual funding over the next three years.
The news is not as great as the arts community would like - but is not as bad as it could have been.
Some 670 organisations - from giants of high-culture to grassroots shoestring set-ups - will get annual funding from next year, down from the current 703.
ACE distributes taxpayers' money and Lottery funds to allow these artistic adventurers to brighten our worlds from time to time.
But its government grant has been cut by 36% over the past four years.
Plug the gap
It warned that if it passed on that cut, it would only have enough money to fund between 250 and 300 organisations in the future, rather than the 670 it has chosen.
There would have been outcry in the artistic community. That is what happened last time, three years ago, when ACE cut around 200 organisations from its annual funding roster.
So this time, it decided to plug the shortfall by using National Lottery money.
The 670 National Portfolio Organisations will be funded by £70m from the Lottery and £270m from government grant-in-aid.
ACE says the Lottery money will go specifically to organisations that specialise in touring and creating work for children and young people.
Big beasts
That raises a couple of points, though.
If ACE said a 36% monetary cut would have led it to cut 60% of its funded organisations, it is clear that the axe would have fallen on the smallest, cheapest targets first.
Next year, the four biggest organisations - the Royal Opera House, Southbank Centre, National Theatre and Royal Shakespeare Company - will receive £77m between them.
That is the same amount as goes to the smallest 500 organisations.
The "big four" are bastions of British culture and have, in fairness, shouldered small cuts this year, while the next in line - the English National Opera - has taken a bigger hit.
But it remains to be seen whether that will ease the sense among the outliers that the big beasts are sacred.
Smaller talent pool
The second point is - where is this Lottery money coming from?
The answer, it turns out, is that ACE is cutting its "strategic fund", which provides money for, among other things, new buildings for artistic venues and endowments for large organisations.
Cutting that will provoke less outcry than cutting the number of organisations that receive annual funding.
The last time it went through this process, 1,300 organisations applied to be part of the ACE roster.
This time, there were 875 applications. What has happened to the other 425? Have they withered and died in an inhospitable funding climate?
Or have they discovered that they can raise funds elsewhere and can do without the box-ticking that comes with taking ACE money?
Regions vs London
This time, the Arts Council has also tried to rectify what many see as a regional funding imbalance.
Last October, a report claimed central government spending on arts and culture in the capital amounted to £69 per resident in 2012-13, compared with £4.60 per person elsewhere in England.
When that came out, ACE Chairman Sir Peter Bazalgette agreed that there was an imbalance, said he would rectify it and invited us to judge him in 2015.
Now we know what the funding will be in 2015.
In monetary terms, the pendulum has swung slightly in favour of the regions - from 49% of National Portfolio Organisation funds going outside London from 2008-12 to 53% from 2015-18.
In reality, out-of-London organisations will see their grants go up by a total of £9.5m between this year and next.
But the number of National Portfolio Organisation outside London will actually drop by 13, with the London total increasing by one.
ACE has put other initiatives in place, too, like a separate £15m fund to retain and boost talent outside the capital and a further £25m to reach under-loved areas and audiences under the Creative People and Places scheme.
A lot of money, but enough to placate the critics?
Diversity downturn
Arts Council England has also announced a £6m fund to increase diversity in the arts.
Its figures show that annual grants to "diverse organisations" are actually due to go down next year.
Such an organisation is described as being one "where more than 50% of the organisation's board and senior management are diverse" - that is from an ethnic minority or with a disability.
There will be 10 fewer "diverse" organisations next year (down from 70 to 60), and over the next three years these creators will get £2.4m less than they did before.
Culture Secretary Sajid Javid recently made diversity the focus of his first major speech in the post, saying he wants the fruits of this funding to be "accessible to everyone".
But the figures currently appear to be going in the wrong direction.
Making the arts accessible to everyone remains Arts Council England's biggest challenge of all.