The Bunker Diary wins children's book prize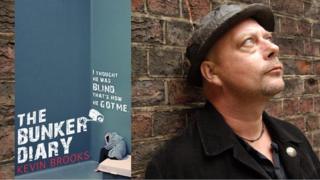 Young Adult author Kevin Brooks has won 2014's Cilip Carnegie Medal for The Bunker Diary, his fictional diary of a kidnapped boy held hostage in a bunker.
It took Brooks a decade to get the teen novel published, as it was originally rejected for its "lack of hope".
Canadian Jon Klassen's This is Not My Hat, which sees a thieving fish get his comeuppance, was also awarded the Kate Greenaway Medal for illustrated books.
Voted for by UK librarians, the medals are the oldest children's book awards.
Previous Carnegie winners including CS Lewis, Terry Pratchett, Arthur Ransome, Penelope Lively and Philip Pullman; while Quentin Blake, Shirley Hughes and Raymond Briggs have all been awarded the Greenaway.
'They're not babies'
Organisers said this year's winners both featured "unusually dark finales". Authors Brooks and Klassen argued such downbeat endings could benefit children.
"As readers, children - and teens in particular - don't need to be cosseted with artificial hope that there will always be a happy ending," said Carnegie winner Brooks, who is known for tackling controversial subjects such as drugs, child abuse and violence.
"They want to be immersed in all aspects of life, not just the easy stuff.
"They're not babies, they don't need to be told not to worry, that everything will be all right in the end, because they're perfectly aware that in real life things aren't always all right in the end."
He added: "To be patronizing, condescending towards the reader is, to me, the worst thing a Young Adult fiction author can do."
Brooks, who has written 10 Young Adult novels and been shortlisted for the Carnegie Medal three times before, faced competition from double winner Anne Fine, as well as Katherine Rundell and Rebecca Stead.
He said winning the prize for The Bunker Diary was "particularly special".
"I knew I could have got the book published years ago if I'd rewritten it - toned it down, changed the ending, explained a lot of unexplained things - but to me that would have meant writing a different book, a book that I didn't want to write."
This Is Not My Hat is animator Klassen's second book, following last year's shortlisted I Want My Hat Back. It beat books by former Children's Laureates Michael Morpurgo and Julia Donaldson.
Klassen, who was also shortlisted this year for his illustration work on The Dark by Lemony Snicket, said the prize was "hugely encouraging".
"Making a book, you're kind of going out on a limb in the belief that what you think of as a satisfying story is the same as what other people think of as a satisfying story," he said.
"This doesn't mean everything in the story turns out alright for everybody, but you, as a storyteller, try and make sure it ends the way the story should end.
"Whether the story itself portrays happiness or doom, the hope is found when we agree we liked it, and I'm so glad you liked this one."
'Credible world'
Klassen's illustrations, ranging from "the sublime to the sinister" were a "joy to behold", according to Helen Thompson who chaired the judging panel.
She said Brooks had created "an entirely credible world with a compelling narrative, believable characters and writing of outstanding literary merit."
"Children and teenagers live in the real world; a world where militia can kidnap an entire school full of girls, and where bullying has reached endemic proportions on social media," said Thompson.
"Exploring difficult issues within the safe confines of a fictional world creates essential thinking space, and encourages young people to consider and discuss their own feelings and reactions."
Both authors win £500 worth of books to donate to their local library, while Klassen's award also comes with the £5,000 Colin Mears Award cash prize.