Glastonbury 2014: 11 acts to watch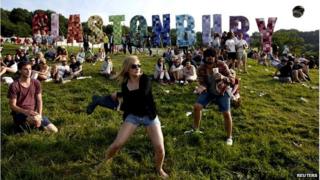 Metallica and Dolly Parton may have stolen all the headlines, but with more than 2,000 acts at Glastonbury there's something for everyone.
Over five days, circus performers, poets, DJs and even the English National Ballet will appear on one of the festival's 100+ stages.
If you're not in the mood for the main stage, here are 11 acts you can see across the 1,200 acre site.
And on Friday, we'll speak to all of this year's headliners: Arcade Fire, Kasabian and, of course, Metallica.
THE AWARD WINNERS - LONDON GRAMMAR
Last year, London Grammar were hidden away on the tiny Pussy Parlure Nouveau stage. Now, with an Ivor Novello award for best song (Strong), they've been promoted to festival's fifth largest venue - the John Peel Stage - where they headline on Sunday night. "We've come a long way," says guitarist Dan Rothman.
What are your memories of last year?
It was a bit of an obscure stage but it was the first time we'd sensed that excitement around our music. The tent was full and people were singing along. It's something we look back on quite fondly.
Now you're top of the bill. What does that mean to you?
When you headline you can more or less design the stage to your own specifications. There are two trucks of lighting we're bringing to Glastonbury this year. It means we can make the stage our own and make it special.
What's the highlight of the set for you?
We end on two songs which I love for different reasons. First is a song called If You Wait, which is just Hannah on piano and strings, which is just beautiful and stark - and I don't really do anything so I can just spectate, which is nice. Lazy, but nice.
And following that we play Metal and Dust which is the complete opposite- really full and uptempo. It's the perfect way to end.
Do you stay in a tent, or do you sneak away to a posh hotel?
We'll sleep on the tour bus.
Is that reasonably comfortable?
Yeah, although I actually don't know which bus it'll be.
Is that because you've got so many to choose from now you're famous?
I shouldn't have said that! That sounds terrible!
London Grammar headline the John Peel stage on Sunday.
THE FIRST-TIMER - SOAK
Soak - aka Bridie Monds-Watson - may only be 17, but she's turning heads with her assured, confessional songwriting. After being championed by Radio 1's Huw Stephens, the Derry singer plays the BBC Introducing Stage, at her first ever Glastonbury.
You only started playing guitar four years ago - how does it feel to be at Glastonbury already?
It's kind of unexpected, but I'm pretty happy about it. I've always wanted to go but I thought it'd be a few years yet until I got to play.
What's the best Glastonbury rumour you've heard?
Literally, the only rumour I've heard is that it's going to be warm.
That's a dangerous thing to believe. You have to pack for every eventuality.
I know! I'm going to have to bring fur coats and t-shirts. I don't know where to start.
What can people expect from your set?
I'm not the typical singer-songwriter who gets on stage and explains every heartfelt word. But I do talk a lot between my songs. It's occasionally funny, the majority of the time it's stupid, and sometimes I dig a massive hole for myself and spend the rest of the show trying to get out of it. That happens quite often, in fact.
Soak plays the BBC Introducing Stage at 16:30 BST on Saturday, and the Left Field Stage at 15:00 BST on Sunday.
THE PEOPLE'S POET - MICHAEL ROSEN
British author and poet Michael Rosen knows a thing or two about writing for children. A former Children's Laureate, he has also penned several children's books and worked extensively in schools.
Having never played Glastonbury before, what are you expecting?
I'm expecting a family audience. I say that because whenever I appear and think I might be doing adult poems, people bring two and three-year-olds!
What usually happens is I have to do the things they tell me to, which is things like We're Going On A Bear Hunt, Chocolate Cake and Boogie-Woogie Buggy. I might improvise and ad lib a bit, as well.
How does that go?
It's seat of the pants stuff, but most of the time it goes very well. People want to have a good time.
Rather oddly for someone who's 68, the poems are written as if I'm about nine. So I'm talking about being a child, yet I'm a dad many times over. There's some very interesting triangles set up in the room where you have children and adults and an adult pretending to be a child all together.
Everyone's thinking, "blimey, what is it to be a child, and isn't it odd that mums and dads tell you off in different ways?" Things like that.
You're on at 2pm on Sunday. Have you made allowances for the fact people might be in a delicate state?
I'm sure there'll be plenty of fun there! I'm guessing there'll be lots of thinking about mud and burnt skin and dirt under fingernails. I've got quite a lot of camping holidays to draw on - I can tell the story of the time a river was flowing through our tent, or the time I was in France and the campsite had rather unsavoury sanitary arrangements.
Are you staying the whole weekend?
No. As a family, we'll come down on the Sunday and go back on the Sunday. My daughter is desperate to go. She's already scanning who's on… The last person she's going to go and see is me. She's 13, that would be the naffest of naff.
Michael Rosen plays the Poetry and Words stage at 14:00 BST on Sunday.
THE RETURNING HEROES - MOGWAI
After 11 years away, Scottish multi-instrumentalists Mogwai return to Glastonbury on a high. New album Rave Tapes gave the group the first top 10 hit of their career, while critics have praised their intricate, eclectic live shows. "Glastonbury has always been really good to us," says frontman Stuart Braithwaite.
Last time you were on Worthy Farm, you played on the Pyramid Stage in the afternoon. This time, you're right at the top of the bill. How does that feel?
It's always better for us to play in the dark! We always feel a bit weird in the sunshine. We need lots of flashing lights to distract people from what we look like.
Do you approach festival sets differently to your own gigs?
I think we do. We play a louder kind of set than we normally would. We've already done a few festivals this summer so we're kind of into the swing of things already.
How are the songs on Rave Tapes going down live?
Some of them work better than any of us anticipated. It's good to see people dance to Mogwai - other than the people who are just deranged. It's not something I thought I'd ever see.
Do you join in the dancing, too?
I dunno. I move around a little bit playing my guitar, but you'd probably get done by trade descriptions if you described it as dancing.
Is there anyone else you're looking forward to seeing?
I'm really looking forward to seeing ESG, who are on the same stage as us, and The Pixies as well. They played before us at Coachella and the new songs sound really great. I'm hoping to see them again.
Mogwai play the Park Stage from 23:00 BST on Saturday.
THE ANTHEM MERCHANTS - CLEAN BANDIT
Clean Bandit's infectious, shimmering Rather Be should be a festival highlight. The second biggest-selling single of the year, it propelled the band's debut album, New Eyes, into the Top 10 last week. The Cambridge graduates, who mix dance music with live strings, are "really excited" to be back at Glastonbury, says Jack Patterson.
Is it true you couldn't fit the whole band on stage last year?
That is true, yeah! We did a show up in the hills and Grace, who plays cello, had to stand in the audience!
There are quite a lot of you. Do you demand extra camping spaces?
Well, last year, we were camping and we happened to be next to Fatboy Slim. He had a Winnebago and, after our set, we noticed him and Zoe Ball leaving in a 4x4. So a few hours later, Grace and I decided to see if his Winnebago was free and vacant - and it was! So we spent the rest of the festival in there.
What sort of state did he leave it in?
It was very clean. He'd left a nice note for the hospitality people, but we didn't read it.
To be honest, at six in the morning the next day, loads of people came in and said "who the hell are you?" But they let us stay.
If you could steal anyone's Winnebago this year, whose would it be?
I'd quite like to get back in that one, if the opportunity arises! It's just very comfortable. I hope he doesn't find out.
Any Glastonbury rumours you'd like to start?
That we'll have Drake performing with us. He'll be performing the whole of Rather Be. I haven't had it confirmed but that's the rumour I've been hearing on the industry grapevine.
Clean Bandit play the John Peel stage at 18:15 BST on Saturday.
THE RIOTOUS FOLK TROUPE - DEMON BARBERS XL
Named best live act at the 2009 BBC Folk Awards, Demon Barbers mix traditional English music with hip-hop, rock, clog dancing and just about anything else you care to mention. Frontman Damien Barber admits "there's a hell of a lot going on".
What is Demon Barbers XL?
It's a development of our old Demon Barber Roadshow, which has been going for about 14 years now.
The roadshow was a five-piece band, a modern interpretation of folk music, plus traditional dancers - morris, clog and sword dancers. For the new show, we've got a couple of extra guests just to make it even more exciting. We've brought in hip-hop dancers, a great beatboxer from Leeds, a young lad called Finn Barmer.
How does Glastonbury compare to your theatre shows?
It's a different environment, Glastonbury. We've done over 50 theatre shows and usually you've got a "trapped" audience. Most people are too polite to get up and leave if they don't like it.
At Glastonbury, people are moving through and moving around. But last year we always ended up with more people than we started with, which is "job done" for us.
What sort of reaction do you get?
We get a lot of people who aren't quite sure what we're up to, really. They might see in the programme that we're traditional dance - but it's not done the way traditional dance is normally done. There are a few raised eyebrows.
Will you be going to see any other acts?
The only thing I'm gutted about is we're playing the same time as Dolly Parton and I really, really wanted to see Dolly. We might have to do a big conga line, a big morris dance down to see Dolly.
Demon Barbers XL play the Astrolabe Theatre on Friday, Saturday and Sunday.
THE HEADBANGERS - WOLF ALICE
North London quartet Wolf Alice took their name from an Angela Carter short story collection - but it's a perfect fit for their feral, angst-ridden, grunge sound. "We like to keep it energetic and loud," says singer Ellie Roswell.
As playing you're in a tent, are you praying for rain?
I hate rain but if there's a downpour, I won't be too sad. When I'm at a festival and it rains, I always take shelter in one of the tents. So that works in our favour.
You're on in the middle of the afternoon - is that a good time to rock out?
I think so. You don't want to play a small stage at the same time as the headliners. But I think we clash with Lana Del Rey, which is sad for us. We're all big fans - and lots of my friends are fans as well. They'd better show where their loyalty lies, or else I'm going to kill them!
But my parents are coming along, so there'll be at least two people there. Unless they're Lana Del Rey fans as well.
Is it their first time at Glastonbury?
It's my mum's first ever festival and it's her 50th birthday, so she's going to be celebrating in style.
Do you plan on showing her around?
I'll stick both of them in the Hare Krishna tent and let them do their thing. I don't want to bump into them too much!
What's on your rider?
Hummus. That's it. We're a modest band. We just want hummus and we're happy.
Not even some bread to mop it up?
No, we just use our fingers.
Doesn't that make the instruments sticky?
No. It just means that when you get hungry on stage you can just lick your strings.
Wolf Alice play the John Peel tent from 16:00 BST on Saturday.
THE JUGGLER - GRANT GOLDIE
Grant Goldie says he "fell into" juggling by accident 21 years ago but he's never looked back. With routines incorporating the diablo, yo-yos and multiple hats, he can be seen several times a day at Glastonbury's Big Top.
For those who haven't seen your act, you're not just throwing clubs in the air, are you?
No! The thing that's always interested me about juggling is the movement. It's not about how many things you can juggle, it's about how you can make a simple move look elegant and nice - or quirky and stupid.
What sort of reaction does your act get?
You get two reactions. There are people who haven't got the attention span to watch. Glastonbury is so overwhelming, there's so much going on, and some people just try to cram it in. They're on a permanent walk and they'll stare at you as they walk past and as soon as you're out of vision, they'll be on to the next thing. Then you get other people who come into the tent and get completely absorbed by what's going on.
What's the atmosphere in the Circus area?
Really great. Circus and cabaret are a fairly niche market. There aren't very many circus clubs throughout the UK, so you really are getting to experience something you won't see on telly that much.
Are there any acts you're keen to watch?
Casey Woods - she's a young Australian Girl. Just a couple of years ago she finished the Fruit Fly Circus School. She does ball juggling and she's really good, so I'd recommend her.
Grant Goldie plays in the Circus Big Top throughout the festival.
THE POP EMISSARY - FOXES
Wide-eyed pop singer Foxes, real name Louisa Rose Allen, saw her debut album chart at number five last month. She plays Glastonbury for the first time, after visiting every year since she was 17.
What's the worst weather you've endured at Worthy Farm?
I remember there literally being mudslides. You had to find the highest area you could because tents were drowning, and rivers were forming around the stages. But I love it. It's like an exaggerated England. It wouldn't be Glastonbury if it wasn't awful weather.
Mud is fine when you're in the audience but how do you keep pristine when you're performing?
By wearing a see-through raincoat, so people can see your outfit underneath!
You got invited on Pharrell's tour after he heard you cover Happy on Radio 1. Will you be playing that at Glastonbury?
Covers always go down well at festivals but I'm not sure what my set is yet. I've got quite a few songs and I have to fit them all in. Happy is a great track to be playing at festivals, though.
As you've been a guest vocalist for Rudimental in the past, are you expecting them to invite you onto the Pyramid stage?
I'm not sure I'm going to be there in time - but I think they can handle it themselves this year. It's nice to see them moved up to the main stage. They're the perfect festival band.
Foxes plays the Sonic Stage at 20:10 BST on Saturday.
THE NONSENSE PEDDLER - TONY LAW
Canadian stand-up Tony Law is known for his surreal, rambling comedy monologues. Having won two Chortle Comedy awards for last year's Maximum Nonsense show, he stops off at Glastonbury en route to Edinburgh.
What can people expect from your show?
A lot of nonsense.
Will you be previewing any of your Edinburgh routine?
I'll probably do a little bit of greatest hits - but the problem is as soon as I put an old show to rest I forget the material almost instantly. I know it looks like crazy nonsense, but there's intricate wording to this stuff.
Are festivals good places to play comedy?
I'm mainly doing it to take my family there! But I haven't been to Glastonbury for years, and I like playing the other festivals. Latitude is very good to do - you get about 7,000 people. It's massive.
Will your children drag you out to see the music?
They're only five so they've never been to Glastonbury. Their musical tastes are still forming, so we'll probably going to see some circus thing.
In the past they've had children's characters like Rastamouse and The Wombles at Glastonbury, so you could take them to something like that.
Oh no, they're more sophisticated than that. My daughter would like it if The Doors were playing, but they're not around any more.
What do you make of the controversy over Metallica?
I like a bit of heavy rock. Aren't festivals supposed to cover everything? [Puts on a self-righteous voice] I hate labels, man. I hate the ghetto-isation of all different types of music. Can't we just all play all the music we like at the same time, man?
Tony Law plays the Cabaret Tent at 23:15 BST on Friday.
THE METALLICA CHALLENGER - EMILIANA TORRINI
Singer-songwriter Emiliana Torrini is known for several things - coming from Iceland, writing Kylie Minogue's Slow and singing over the closing credits for The Lord Of The Rings: The Two Towers. Her recent album, Tookah, combines cherubic vocals and evocative melodies over a quiet, bubbling electronica.
You're on at the same time as Metallica - almost like an antidote to the noise.
I hope so. Otherwise we'll have a really quiet gig by ourselves!
A lot of your recent gigs have been quite unusual, haven't they?
Lately, I've been booked into festivals where I have never met the band before. I did one in Berlin, it was a jazz festival, and I was meant to be meeting a string quintet. When I arrived it wasn't a string quintet at all, it was an experimental jazz band. We rehearsed two hours and then the concert was like an open rehearsal.
That must have been terrifying.
It was the most thrilling, amazing thing I've ever done. The first gig was very mystical. My song Jungle Drum turned into a Balkan gypsy extravaganza. The next day, we went to do the gig in a tiny little dark club and it turned into something completely different - very dangerous and thrilling and always on the edge of collapse.
Glastonbury will be more traditional. Many of the guys in the band are ones I've travelled with for a long time.
You've played the festival many times. What's the attraction?
It has this enigma. It's like a dream city when the sun shines. The English do festivals extremely well. To bring art and talk and comedy into it - the element of fun and magic. I don't think anyone does it as good.
Emiliana Torrini plays the Avalon Stage at 21:45 BST on Saturday.