Michael Palin to join Tweet of the Day team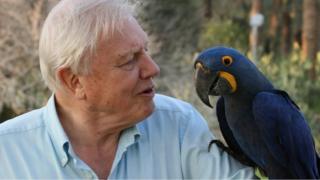 Michael Palin will join Sir David Attenborough hosting the BBC Radio 4 series Tweet of the Day when it returns with a new series in September.
World Tweet of the Day takes the cult show, which originally focused on British birdsong, beyond the UK.
The new series begins in September, with an episode devoted to New Guinea's blue bird-of-paradise.
TV globetrotter Palin will present the final 20 episodes of the series in January next year.
"On my journeys round the world I'm as fascinated by the natural life as I am by the people I meet," said the Monty Python star, who presented the BBC travel series Around the World in Eighty Days and Full Circle.
"Early morning birdsong is often the first thing to alert me to the fact that I'm somewhere new and different."
Palin will join fellow presenters Miranda Krestovnikoff, Chris Packham, Liz Bonnin and Sir David.
The early morning series, which airs at 05:58 every weekday and 08:58 on a Sunday, began in 2013.
Each minute and half episode features the song of a particular British bird, followed by insights into that bird's behaviour and its cultural associations.
Sir David said he was delighted "to revisit through birdsong some of the extraordinary and far flung places I have been fortunate enough to visit during my career".
"When you first hear the call of the blue bird-of-paradise, it utters a sound so un-bird like you could be forgiven for thinking it came from some form of electronic device hidden nearby in the New Guinea forests."
Earlier this year, Tweet of the Day was named radio programme of the year at the Broadcasting Press Guild Awards.
Radio 4 controller Gwyneth Williams called it "a wonderful way to start the day".
"I look forward to many more birds from around the world joining our dawn chorus."
The new series begins on 1 September.