Glen Campbell needs full-time care due to Alzheimer's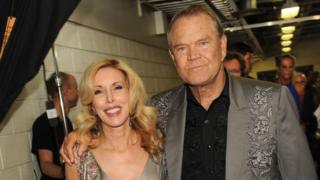 US country music star Glen Campbell's Alzheimer's disease has worsened to the point where he needs full-time professional care, his wife has said.
Campbell, 78, revealed he had been diagnosed with the disease in 2011.
His wife Kim said doctors had persuaded her to discontinue care at the family's home, angering Glen's daughter Debby.
"I am his wife and no one wants him home more than me but I must do what is in his best interest," Kim Campbell told AP.
"It is crushingly sad to see him afflicted with Alzheimer's but indulging those feelings does not help him," added Kim Campbell, the singer's fourth wife of 32 years.
Talking about the care her husband is now receiving, Kim Campbell said: "He has activities and therapies to stimulate him and help him experience daily moments of success.
"His life is filled with love and laughter and he is being cared for round the clock by people who specialise in Alzheimer's care and happen to adore him.''
Debby Campbell, one of the singer's eight children, told Country Weekly magazine last week that she was unhappy with the decision to move her father into care.
She also said he had not been receiving enough attention from family members in Nashville, where Campbell lives.
But Kim Campbell countered by saying she spent time with her husband every day and that two of his children who live in Nashville visit weekly.
She also said she organised activities for the Grammy Award-winning singer of such hits as Rhinestone Cowboy and Wichita Lineman.
Campbell issued two albums and went on a world tour following his diagnosis.
At the time, his wife said the tour was a way to help her husband combat the disease and spend time with his family members, including Debby, who was in his band and travelled with him.
Campbell received a Lifetime Achievement Grammy in 2012. He has also been named Male Vocalist of the Year by the Country Music Association (CMA) and the Academy of Country Music (ACM).
In 2005, he was inducted into the Country Music Hall of Fame.