Tupac Shakur musical is 'heartfelt but heavy-handed'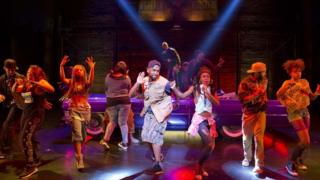 New Broadway musical Holler If Ya Hear Me, inspired by the music of late rapper Tupac Shakur, has received a mixed reaction in New York.
The jukebox show features his hits but does not tell the story of Shakur, who died after being shot in 1996, aged 25.
Variety called it a "generic gangland saga" that was "predictable" with "clumsy characterisations", although praised its "soaring performances".
Deadline described lead actor Saul Williams as "rivetingly charismatic".
Directed by Kenny Leon, who won a Tony Award for his recent revival of A Raisin In the Sun, Holler If Ya Hear Me is billed as a non-biographical story about friendship, family, revenge, change and hope.
Shakur died following a drive-by shooting in Las Vegas, thought to be the result of gang wars.
The musical sees slam poet Williams play John, newly released from prison and hoping to stay out of trouble, although his friend Vertus, a drug dealer played by Christopher Jackson, has other ideas.
"The beats are sweet, and the words often have an electric charge," said Charles Isherwood for The New York Times.
"Unfortunately, much else about this ambitious show feels heartfelt but heavy-handed, as it punches home its message with a relentlessness that may soon leave you numb to the tragic story it's trying to tell," he added.
Mark Kennedy from AP credits the show with "some inspired moments" but adds "that full-throttle energy can't sustain itself through the 2 1/2 hour show."
"The high-energy, deeply felt but ultimately overwrought production opened in a blaze of N-words, proving both that rap deserves its moment to shine on a Broadway stage and that some 20 Shakur songs can somehow survive the transformation - barely," said Kennedy.
Featuring 2Pac tracks such as California Love, Me Against the World and Keep Ya Head Up, the musical is the first time hip hop classics have been performed on the Broadway stage.
New York Daily News reported the show at New York's Palace Theater has so far struggled to sell tickets and several critics hinted it may struggle to find an audience.
Jason Bisnoff wrote: "Many rap fans wish the show was simply a bio of Shakur, much as songwriter Carole King has her life on stage in Beautiful.
"To such fans, Broadway has again missed a big opportunity to expand its limited repertoire of storytelling."
Deadline's Jeremy Gerard found the show "slow to get going", likening it to "a 45 RPM musical playing at 33 1/3, to use an analog analogy."
"The show may disappoint rap fans and bewilder Broadway musical regulars. That's too bad, because it's better than merely well-meaning."
He added: "Holler if Ya Hear Me brings Broadway into the 1990s. Believe it or not, that's progress."