NTSB: Speed a factor in Tracy Morgan car crash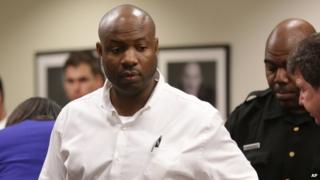 The lorry driver who crashed into a van carrying US comedian Tracy Morgan had been travelling above the speed limit, investigators have found.
Kevin Roper, a driver for Wal-Mart, was travelling at 65mph (105 km/h) in a 45mph construction zone, the National Transportation Safety Board found.
Mr Morgan was severely injured and comedian James McNair was killed.
Mr Roper, 35, has been charged with death by auto and assault in the 7 June crash.
According to the preliminary report released on Thursday by the National Transportation Safety Board, Mr Roper was driving at 65mph for one minute prior to the collision with the limo van carrying Mr Morgan, Mr McNair and five others.
Mr Roper went on duty near noon on 6 June, 13 hours and 32 minutes prior to the crash early on the morning of 7 June, the report states. Commercial drivers are limited to 14-hour shifts, the NTSB stated.
Authorities have previously said Mr Roper had not slept in more than 24 hours prior to the crash.
Mr Roper has pleaded not guilty to charges against him and faces more than a decade in prison if convicted.
Six vehicles were involved in the collision and four people injured including Morgan, 45, who broke a leg, his nose and ribs.
His condition was upgraded to fair this week.
Jeff Millea, Morgan's 36-year-old assistant, who was also in a critical condition after the crash, has been upgraded to fair condition as well. Fellow comedian Ardie Fuqua Jr was also seriously injured.
Morgan starred alongside Tina Fey and Alec Baldwin in the comedy series 30 Rock and is a former regular on Saturday Night Live.