Maxine Peake celebrates unsung sporting hero Beryl Burton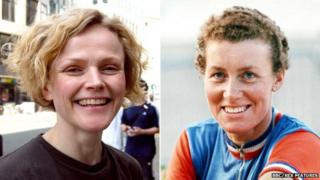 Beryl Burton was one of Britain's greatest cyclists, but did not get the recognition she deserved. Actress Maxine Peake has tried to rectify that by writing a stage play about Burton while juggling TV shows, films and preparations for playing Hamlet on stage.
In 1967, Beryl Burton was competing in a 12-hour time trial when she came to overtake the leading men's cyclist Mike McNamara.
McNamara was on his way to setting a new men's record of 276 miles in 12 hours. On her way past him, Burton took pity and offered him a liquorice allsort.
"Poor Mac," she later wrote. "His glory, richly deserved, was going to be overshadowed by a woman."
Burton covered 277 miles that day. It would be two years before a man beat that distance. Despite advances in design and fitness, no woman has done so yet.
That was just one of Burton's achievements. She won seven world titles plus dozens of national championships and held the UK women's all-round title for 25 consecutive years.
She did all that as an amateur, the "Yorkshire housewife", as she was described in the press, whose fitness regime consisted of picking rhubarb for a living.
"I'd never heard of her," says Maxine Peake, the actress who is best known for the TV shows Shameless, Silk and The Village.
Peake's eyes were opened when her boyfriend gave her Burton's autobiography for her birthday.
"I read it and went, 'Why don't I know about this woman?'"
Burton was "criminally ignored, really, in the greater scheme of things", she adds.
In 1971, the Times wrote: "Beryl Burton must be the least publicised, least rewarded great woman athlete ever to be disregarded by her own country."
The cyclist, who died in 1996, did not live to see her sport achieve the success and status it now enjoys in the UK.
"You look now at your Victoria Pendletons and how the sport's changed," Peake reflects. "It's become quite glamorous now. Victoria Pendleton's advertising shampoos and things."
While Peake was working on a radio drama, she suggested that someone should write a script about Burton. The director replied that Peake should write it herself.
"So I did," she says. "I thought, well, bugger it, then, because nobody else is going to do it for me."
Peake played Burton in the resulting BBC Radio 4 drama, which went out in 2012.
Then, after Yorkshire won the right to host the opening stages of this year's Tour de France, the West Yorkshire Playhouse asked Peake to adapt her script for the stage - although Penny Layden will take the lead role this time.
Role models
Last year, Peake wrote another radio play, about four miners' wives who attempted to save pits from closure by occupying a mine.
"I felt there was a lack of women's stories," she says. "It's ordinary women doing extraordinary things.
"Male achievements get made into dramas a lot, but I don't feel women's do as much. And in this climate, it's quite a confusing time for young women.
"I just felt, get as many role models out there as possible. And there is always a slight political agenda. I always want to redress the balance."
That political agenda comes from her own left-wing convictions, and she wants to tell working-class stories as well as those of inspirational women.
She has never shied away from talking about politics and every interview seems to mention that she was a member of the Communist Party in her youth. (So it would be rude not to in this one.)
She says she got "sick of" reading interviews with actors who did not speak their minds, so she decided she would.
Other actors "always seem very guarded", she says.
"People choose their words very carefully. And it is a precarious business. And it does go on. There's blacklisting. And you have to be careful."
Blacklisting? Peake suddenly looks like she may have gone too far.
"I'm not talking McCarthy," she responds with a dismissive laugh, referring to the witch-hunt of Communist sympathisers led by US Senator Joseph McCarthy in the 1950s.
"But people feel they've got to be careful that they might not get work if they become too much of a firebrand. Some institutions might go, 'We don't want to be associated…' I think it's very fragile at the moment."
Being a firebrand does not seem to have done Peake too much harm. In fact, she is one of the busiest actors in the business.
She wrote the script for Beryl during breaks while filming other jobs and has had little opportunity to attend rehearsals for the stage adaptation because she is currently filming the second series of BBC One drama The Village.
She has just been in two independent films - Run & Jump, in which she plays the wife of a man recovering from a stroke, and Keeping Rosy, a psychological thriller in which she plays a high-powered businesswoman whose life falls apart.
Next, she will tackle one of the most challenging roles in theatre - Hamlet.
After appearing in August Strindberg's Miss Julie at Manchester's Royal Exchange two years ago, she and director Sarah Frankcom were discussing what to do next.
"I said, 'We need to keep pushing ourselves. Let's do something brave.'"
Most plays with weighty female lead roles - Medea or Hedda Gabler or A Doll's House - had either been done recently or did not appeal.
"It was just a bit of a joke - I went, 'What about Hamlet?'" Peake recalls.
"Sarah went, 'Don't be silly.' Then she rung me that evening and went, 'Were you serious?'
"I was like, 'Let's do it.' Why not? You've just got to keep challenging yourself as a performer. So that was it."
Peake is wary of discussing her approach to the role until rehearsals begin in August.
But she does say: "We are playing Hamlet, so far, as a woman. But what comes from that, what other layers we put on that, we're still in discussion."
As the star holds up Beryl Burton as a role model, Peake herself is shaping up as a decent role model for anyone looking towards the acting profession.
Beryl opens at the West Yorkshire Playhouse from 30 June and is part of the Yorkshire Festival. Keeping Rosy is in UK cinemas from 27 June. Hamlet opens at the Royal Exchange on 11 September.