Sir Salman Rushdie receives Pen Pinter prize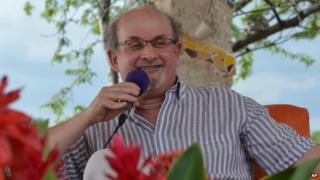 Sir Salman Rushdie, acclaimed author of Midnight's Children and The Satanic Verses, has been named the recipient of this year's Pen Pinter prize.
The award was established in 2009 by writers' charity English Pen in memory of British writer Harold Pinter.
Sir Salman said it was "very moving" to win an award named after his "friend".
"The work of Pen, both in promoting the best of world literature and in opposing abuses of freedom, continues to be vitally important," he added.
"I'm proud to have been a part of that effort in England as well as the United States."
Sir Salman, 67, will be presented with his prize at the British Library in London on 9 October and will deliver an address at the event.
His prize will be shared with an International Writer of Courage, selected by him in association with English Pen's Writers at Risk committee.
Maureen Freely, chair of the judging panel, said the prize was the organisation's way of thanking him "not just for his books and his many years of speaking out for freedom of expression, but also for his countless private acts of kindness".
"When he sees writers unjustly vilified, prosecuted, or forced into exile, he takes a personal interest."
Lady Antonia Fraser, Harold Pinter's widow and a fellow judge, said the award "would have meant a great deal" to her late husband.
Previous winners of the Pen Pinter prize include Sir Tom Stoppard, Sir David Hare and Carol Ann Duffy, the UK's poet laureate.
Rushdie went into hiding in 1989 after The Satanic Verses sparked widespread protests by Muslims and a fatwa from Iran's Ayatollah Khomeini.
The author, whose other books include Haroun and the Sea of Stories and The Moor's Last Sigh, was knighted in 2007 for services to literature.