Sandra Bullock 'stalker' charged over weapon cache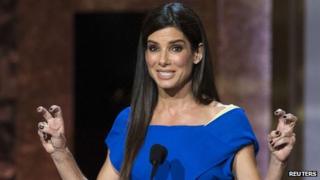 A man accused of breaking into Sandra Bullock's Los Angeles home has pleaded not guilty to charges he possessed a stockpile of weapons.
Joshua Corbett had already pleaded not guilty to charges of burglary, stalking and possession of a machine gun following his arrest last week.
The 39-year-old now faces 19 additional charges after a weapons cache was found at his California home.
Gravity star Bullock was at home during the alleged break-in.
According to his lawyer, Mr Corbett suffers from serious mental health issues and did not intend to harm the Oscar-winning actress.
He faces up to seven years and four months in prison if convicted on the three earlier counts.
The new charges could see Mr Corbett sentenced to an additional prison term of up to 12 years.
Bullock, best known for such films as Speed and Miss Congeniality, was said to be "unharmed and fine" following the 8 June incident.