Rik Mayall mourned at private funeral in Devon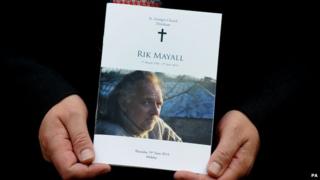 Dawn French, Jennifer Saunders and other friends of Rik Mayall have joined his family to mourn the comedian and actor at a private funeral in Devon.
Ben Elton, Ruby Wax and Mayall's Young Ones co-star Nigel Planer were among other guests at the service, held in the picturesque village of Dittisham.
Mayall's family asked fans for their "thoughts and prayers" ahead of his burial on Thursday afternoon.
A memorial service is expected to take place in September.
Around 140 mourners gathered at St George's Church to celebrate the life of the star, who died last week aged 56 at his home in south west London.
The comedian, who collapsed following what his widow Barbara called an "acute cardiac event", was carried into the church in a wicker coffin adorned with red flowers.
In a statement, Mayall's widow said she had wanted to let fans know about the ceremony "knowing the swell of love you all share with us".
"We would like to let you, the fans, know that we will be having a private family funeral for Rik, as I am sure you will understand," she said.
"Thank you again for all your love and support to all our family, it brings great strength."
Mayall's best-loved roles included poetry-writing anarchist Rick in The Young Ones alongside comedy partner Adrian Edmondson. The pair later created the slapstick sitcom Bottom.
Mayall also played conniving Conservative MP Alan B'Stard in The New Statesman and made a big impression in the comparatively small role of Lord Flashheart in Blackadder.
A social media campaign, started in Mayall's memory, saw his 2010 World Cup song Noble England make the Top 10 of the UK singles chart on Sunday.
Other guests at his funeral included Harry Potter star Alan Rickman and the actor and director Peter Richardson, with whom Mayall worked repeatedly on the Comic Strip Presents films.
Edmondson, with whom Mayall forged a friendship as a student in Manchester, was among the pall-bearers as the coffin was led from the church.