BBC boss Danny Cohen defends British drama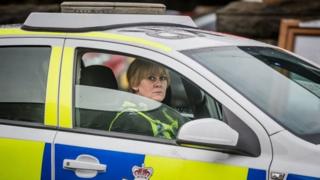 The BBC's head of television has said British drama is being unfairly compared to US box-sets.
Domestic dramas like Downton Abbey and Sherlock are just as good as Mad Men or The Wire, according to Danny Cohen.
He said British shows were being maligned by "box-set consumers who have a larger voice in Britain's cultural dialogue than the average family".
But their perceptions were skewed because "only the very best" US shows come to the UK, he wrote on a BBC blog.
While admitting the BBC had sometimes produced shows that "fall short of expectations", he said the corporation had a "hit rate" that "any network in the world would be very proud of".
He cited recent successes such as crime thriller Happy Valley, 1950s drama Call The Midwife and detective series Luther - while also praising ITV's drama output, which includes shows like Broadchurch and Downton Abbey.
"In Britain, we are not very good at celebrating our success," said Mr Cohen. "We somehow find it embarrassing."
"I believe we should more confidently raise the flag for British drama which - beyond these shores - has huge respect and kudos."
British drama has been lauded in the US, with shows like Downton, Sherlock, Top of the Lake and The Hour all nominated for Golden Globe or Emmy awards last year.
However, the BBC largely lost out to ITV and Channel 4 at this year's TV Baftas, where Broadchurch won three awards, including best actress for Olivia Colman.
Earlier this year. the BBC's director general, Tony Hall, said drama output on BBC One would get a £30m cash injection from the closure of BBC Three as an on-air channel.
Lord Hall said he was "not prepared to compromise on the quality of what I think is at the heart of the BBC, and that is drama".