Utopia writer Dennis Kelly defends violent scenes
By Kev Geoghegan
Arts and entertainment reporter, BBC News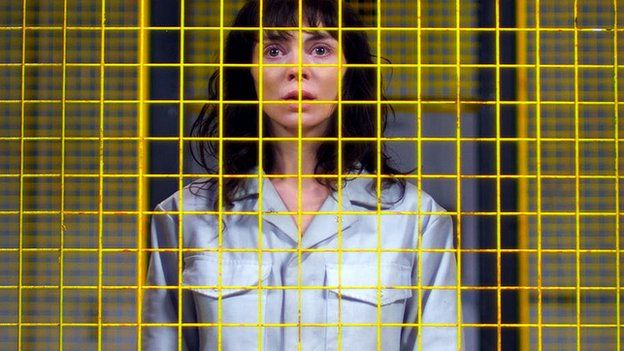 Dennis Kelly, the writer of Channel 4 conspiracy drama Utopia has defended violence in the show, ahead of its much-anticipated second series.
The first episode, a prequel, focuses on the creation a plot to control global population growth, called Janus.
Utopia was criticised last year after a scene of a primary school shooting aired a month after the Sandy Hook shootings in the US.
Kelly said: "I think you need violence to tell the extreme of the story."
First broadcast in January 2013, Utopia brought together a group of people who stumbled on a plot to sterilise most of the world's population, in an attempt to save Earth's natural resources from running out.
The first series won an RTS award for best music and was nominated for several Bafta craft awards.
It was positively reviewed, particularly for its striking visuals but some accused the programme of gratuity in its portrayal of violence.
However, speaking at a screening of the new series at Bafta in London, Kelly said Utopia's dark subject matter justified scenes of extreme and often sudden violence.
He said much of the show's brutality derived from one of its central characters, Milner, an operative for the shadowy Network - played by actress Geraldine James.
"I think the Network, what they're trying to do, what Milner is trying to do, she believes in so much," he explained,
"The question is really simple and it's one that follows her through her life and the question is this: If I stop doing this, what's going to happen? What about the billions that live in the future?
"She might be right. When our resources run out, what is going to happen? Phosphates will last another hundred years, the best estimate is three hundred years. Without phosphates, we don't have food to support eight billion people, never mind the 12 billion that will be there.
"The constant debate is about killing people, so I think you do need violence because you need the violence to tell the extreme of the story."
The second series of Utopia starts on Channel 4 in July.
Related Internet Links
The BBC is not responsible for the content of external sites.