Royal Ballet dancers boycott Russia trip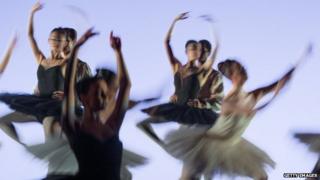 The UK's Royal Ballet is beginning a series of performances at the Bolshoi Theatre in Moscow later.
But it will do so without two dancers who have boycotted the trip in protest at Russia's anti-gay laws.
The company will stage six performances in its first Moscow visit since 2003.
A Royal Ballet statement said: "Out of the 96-strong dancers in The Royal Ballet, just two dancers have chosen not to go on tour to Moscow for political reasons."
Last year, Russia angered gay rights campaigners when it introduced a law making it illegal to provide information about homosexuality to people under 18.
The statement continued: "A handful of others are not going for family or other reasons and this is completely normal.
"On any overseas tour, there are inevitably some dancers who are not required in the repertory being taken on tour, or who have family or other commitments that do not allow them to go overseas for the duration of the tour."
Principal dancers including Carlos Acosta, Natalia Osipova, Sarah Lamb and Steven McRae are among those who will perform in Moscow.
The Royal Ballet will perform Manon by Kenneth MacMillan and a triple bill of Tetractys by Wayne McGregor, Rhapsody by Frederick Ashton and DGV: Danse a grande vitesse by Christopher Wheeldon.
The trip is part of the UK-Russia Year of Culture 2014, which features an exchange of artists and exhibitions between the two countries.
The dancers' boycott comes after Sir Ian McKellen said he was advised "not to go to Russia" by the Foreign Office because of the homosexuality laws last year.
After Moscow, the Royal Ballet will continue its tour to Taiwan and Shanghai.