Danger Mouse to return to TV screens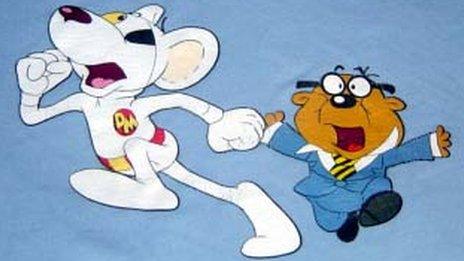 Animated superhero Danger Mouse is to return to children's TV, more than two decades since the popular show ended.
The new series, featuring the fearless white rodent secret agent and his trusty sidekick Penfold, is due to be broadcast on CBBC in 2015.
The show originally ran from 1981 to 1992 and Danger Mouse was voiced by actor Sir David Jason.
CBBC controller Cheryl Taylor said the new show would "win over a whole new generation of fans".
Danger Mouse's producers and animators will be FremantleMedia along with Boulder Media.
Ms Taylor said: "Danger Mouse is the last word in debonair and delightfully eccentric heroics," adding, "CBBC is thrilled to be kick-starting their adventures afresh."
In the original show, each 10-minute episode saw Danger Mouse, who sported an eye patch and the letters DM on his chest, tackle a new mystery and enemy, such as the notorious Duckula.
Some of these characters will be returning for the new series along with new gadgets, locations, villains and vehicles.
Hapless hamster Penfold - who was originally voiced by comedian Terry Scott - will also return.
Danger Mouse's eye patch will be replaced by an "i-patch" with multiple technological functions and his headquarters too will be kitted out with "state-of-the-art wizardry", said Fremantle in a statement.
The voice actors who will play Danger Mouse and Penfold have not yet been announced.
Fremantle's Rick Glanker said: "The thrills, spills and comedy of this landmark international animated series are all still here but this rebooted version will be brought up-to-date for today's tech-savvy and content-hungry kids.
"In this new 21st-Century version the laughs are set to be even louder as the world's smallest secret agent faces mightier missions, voracious villains and knee-trembling threats."
However, Jimmy Hibbert, a scriptwriter on the original series said he was nervous about the show's return.
"I have mixed feelings about it," said Hibbert, who also played Doctor Augustus P. Crumhorn III on the show.
"I was very, very fond of Danger Mouse. Let's hope it's as good as the last series was," he told BBC Radio 5 live.
Danger Mouse was also a big hit outside the UK, including the US, Australia, France, Poland, Germany and Sweden.
It also led to a long-running comic strip adaptation in children's magazine Look-In.