BBC's Ten Pieces for schools: The verdict
By Sarah Jane Griffiths
Entertainment reporter, BBC News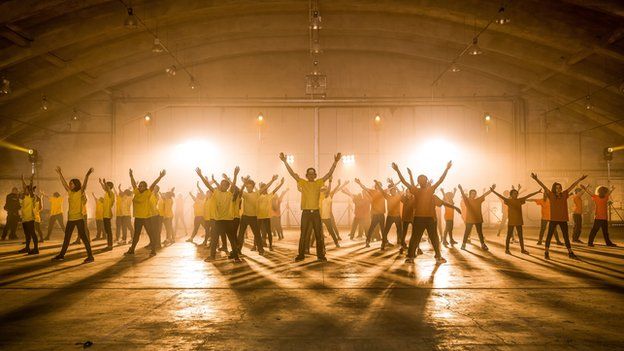 The BBC has unveiled Ten Pieces, a new initiative to take classical music into primary schools and inspire a new generation of children to get creative.
Schools can sign up to take part in the project with a range of online resources and UK-wide events.
Ten Pieces was one of several announcements made at the launch of BBC Music, which also included the BBC Music Awards, which are due to take place in December.
Commentators from the world of classical music have given their opinion on what they think of the works that made it onto the list of Ten Pieces:
John Adams: Short Ride in a Fast Machine
Beethoven: Symphony No. 5 (1st movement)
Britten: 'Storm' Interlude from 'Peter Grimes'
Grieg: In the Hall of the Mountain King from 'Peer Gynt'
Handel: Zadok the Priest
Holst: Mars from 'The Planets'
Mozart: Horn Concerto No. 4 (3rd movement)
Mussorgsky: A Night on the Bare Mountain
Stravinsky: The Firebird - suite (1911) (Finale)
Anna Meredith: Connect It
Julian Lloyd Webber - Cellist, founder of the government's In Harmony programme and chair of Sistema England
I think it's great to see the BBC are still putting classical music at the centre of their thinking. It's great to see a piece by a living composer in there - John Adams - and also a new commission. They're very well-chosen for children and I'm sure it will have a great effect. It's great stuff for everyone, it doesn't matter what age you are.
I think the problem at the moment is that [classical music education] is all patchy across the country. If you have a head teacher that believes in classical music then you'll get a lot of that in the school but if you have one that perhaps doesn't, it's very easy for them to sideline it altogether. This perhaps is a great tool for those kind of heads because it's actually presented and given to them. When they see the impact it has on the child that could help enormously.
The best thing is to get them really young because then silly adults haven't gone and told them that it's not cool.
Of course there's no such thing a definitive list, and we could argue endlessly about which 10 pieces should be on it - my own personal choices would have to start with Mozart's Clarinet Concerto!
But I think that the 10 pieces on this particular list do represent an excellent starting point for any child to explore the incredible world of classical music.
As director of the Royal College of Music, I'm particularly delighted to see three works by former RCM students: Holst, Britten and the brilliant Anna Meredith. We're extremely proud of Anna, and she's a wonderful role model for aspiring composers.
I'm really excited about this project. I'm conscious that there is a generation who haven't been exposed to the mechanics of classical music in the way that kids always used to be.
If you think back to early Disney films, even if they didn't have classical music within them they had structures and composition frameworks that mirrored classical music, so children were hearing the violin, they were hearing pizzicato, they were hearing legato, they were hearing how instruments sound when they're played together. There's been a phase when a lot of movies, as well as television and adverts aimed at children, have had electronic music behind them, which is great and adds a different dimension, but it does mean kids are growing up without that reference point.
The list has been very well thought out, it's very well rounded and it's nice that there's a new piece in it. If I were asked to add another piece I would be interested in having an adagio, perhaps from Mozart, maybe the serenade in B flat for 13 wind instruments - something that has a stillness about it that speaks to a kind of inner calm. Finding stillness for children or any of us can be quite a challenging thing because we live in a frenetic world.
It's a really innovative way of introducing children to how classical music is created - if you haven't been exposed, why would you find it later in life?
The London Symphony Orchestra warmly welcomes the BBC's new Ten Pieces initiative. The breadth of repertoire in Ten Pieces is exciting, especially with the inclusion of new and recently composed works.
LSO Discovery, the LSO's own education programme, has been working in primary schools for nearly 25 years, and now reaches some 65,000 people per year. Working in schools is extremely rewarding for our players, and we know that our colleagues in the BBC orchestras will be enthusiastically welcomed by the young people. It has enriched the life of the orchestra enormously and has become an integral part of the LSO's work in the UK and internationally.
We wish the BBC musicians every success and we hope that the BBC will broadcast this series on mainstream television.