Michael Eavis defends 'keen' Metallica's Glastonbury slot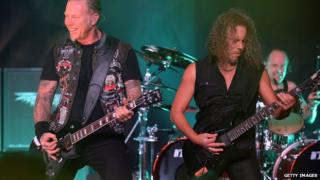 Glastonbury founder Michael Eavis has defended Metallica's right to be this year's headline act, saying no band has been as "keen" to play at the festival.
Eavis was responding to criticism that the heavy metal band does not fit in with Glastonbury's mainstream image.
"There's no other band in the whole history of the festival that has been so keen to play, they will do the best set of their lives here," said Eavis.
Metallica's Glastonbury debut is the first top slot for a metal band.
Other headline acts at this year's festival, which is held on Eavis's Somerset farm from 25-29 June, include Arcade Fire and Kasabian.
"We have been going for so long that people don't expect us to put on a heavy metal band," Eavis said.
"We had Rage Against The Machine and we have had lots of fairly heavy metal bands in the past but this is not a typical headline.
"We usually have bands like Radiohead, Coldplay and U2, the Rolling Stones, but I am really looking forward to them."
The US metal veterans, known for tracks such as Enter Sandman and Nothing Else Matters, will play the Pyramid Stage at Worthy Farm on Saturday 28 June.
Among those to have voiced scepticism over their appearance has been Pulp frontman Jarvis Cocker.
Cocker said the band was an "interesting choice" but told BBC 5 live they could be "a bit abrasive".
The Pulp frontman said fans were often in a "fragile" state and needed acts that were a "vague, warm, friendly presence".
The opposition to Metallica echoes the reaction of some to the choice of Jay Z as the headline act in 2008, the first time a rapper had filled the coveted Pyramid Stage slot.
The rapper went on to win over critics with his exuberant and often tongue-in-cheek performance.
Lars Ulrich from Metallica has said he's happy about the debate over their forthcoming show at Worthy Farm.
"We're going to show up and have fun but all the hoopla is interesting," he told Radio 1's Rock Show earlier this month.
Metallica are also headlining Sonisphere in July.
Glastonbury has been running for 44 years and the V&A Museum in London has announced it is creating a permanent Glastonbury festival archive.
Eavis and his daughter Emily have already given the museum an extensive collection of festival memorabilia, including programmes, posters, backstage passes, set-lists, letters and photos.
Director of the V&A, Martin Roth, said: "The archive is interesting not only for its diversity but also for its fascinating witness to creative, social and political change in the UK."