Monty Python reunion to be broadcast on Gold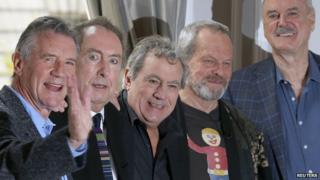 The final Monty Python reunion show at London's O2 Arena is to be broadcast live on television.
Monty Python Live (Mostly) will be screened on comedy channel Gold on 20 July, marking the end of the group's 10-night run.
The three-hour event will be preceded with a live backstage programme.
"We are very excited that not only do we get the chance to screw up on stage, we get a chance to screw up live on TV too," Python member Eric Idle said.
"What could be finer at the end of a long life in comedy, than a chance to reunite with old pals and say goodbye to all our fans in one final mad musical show."
In addition to the live performance, Gold will also screen a special five-part series later this year celebrating Monty Python's Flying Circus and the effect it had on the comedy world.
'Last night'
"It's a huge step in Gold's evolution to be part of such a significant national event and to be broadcasting it live so that everyone can be there," UKTV's director of commissioning Richard Watsham said.
"Monty Python is arguably the most influential comedy group the country has ever known and it's a matter of great pride that they've trusted us with celebrating their very last night together."
The Monty Python troupe announced last November they were reuniting for a one-off stage show, but after tickets quickly sold out an extra nine dates were added.
It is the first time in 40 years that members John Cleese, Terry Gilliam, Eric Idle, Terry Jones and Michael Palin have appeared together on a UK stage.
Graham Chapman died of cancer in 1989.
Palin told the BBC last month the 20 July show would be the last time the five stars work together, adding there were "absolutely no plans to do any more shows after that".
The reunion shows begin on 1 July.