EastEnders and Coronation Street set to clash during World Cup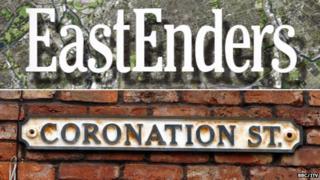 Soap rivals EastEnders and Coronation Street are to go head-to-head in a rare scheduling clash during the World Cup.
ITV has set up a double bill of its drama to go out on 23 June at 19:30 BST, with the last half hour going up against the BBC One soap.
It is the first time in more than 10 years the shows have competed.
With both ITV and the BBC sharing the rights to show World Cup matches, soaps are being moved around schedules to make way for the games from Brazil.
The Press Association reported a BBC insider claimed the clash was "unnecessarily aggressive scheduling" on the part of ITV and was "deliberately creating a clash" by extending the show into EastEnders' established 20:00 slot.
However, the commercial broadcaster denied the claim, saying it was forced to fit it programmes around the football tournament's schedule.
Episodes scrapped
"We have two World Cup matches that day so that's where it is," a spokeswoman said.
A BBC spokeswoman told the BBC News website she had no further comment.
The schedule changes will also see EastEnders clash with ITV's Emmerdale - although they have frequently overlapped - and some episodes of both soaps, along with Coronation Street and BBC One's Holby City, scrapped altogether for the football.
Although the BBC and ITV usually have annual rows over the scheduling of Saturday night entertainment, Sunday night drama and Christmas Day viewing, it is rare for EastEnders and Coronation Street to be screened with such an overlap.
There has been a small number of 10-minute crossovers when EastEnders ran longer than its standard 28-29 minutes.
However, the last time both soaps directly competed was in August 2001, when the BBC drama added an additional episode and began screening four times a week.
In December 2010 the first ever episode of Coronation Street was re-broadcast up against EastEnders as part of its 50th anniversary celebrations, where the latter soap attracted 8.8 million viewers and ITV's drama received 6.7 million according to overnight figures.