Kanye set designer joins the Brits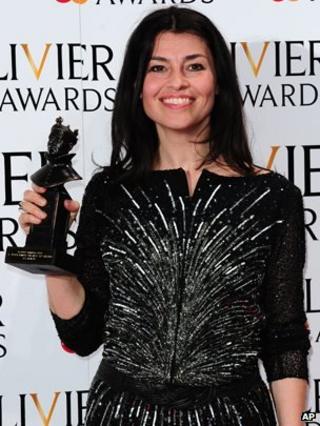 Es Devlin, who has created spectacular tours for Kanye West and Take That, is to design the stage for next year's Brit Awards, organisers have announced.
The British artist also designed the closing ceremony of the 2012 London Olympics, and recently won an Olivier Award for her work on Chimerica.
The play, inspired by events in China's Tiannenmen Square in 1989, had a rotating set described as a "theatrical Rubik's cube".
The 2015 Brits will be on 25 February.
The ceremony will be held at London's O2 arena for the fifth year running - but host James Corden has stepped down.
His replacement is yet to be announced.
Devlin, who trained at the Central St Martin School of Arts, began her career in theatre, but has branched out to work in pop, rock, ballet, theatre and opera, as well as creating films for the BFI and videos for artists such as Imogen Heap.
Speaking to Vice magazine last year, she said the multi-disciplinary approach helped her stay innovative.
"I've found that technology is advancing much more quickly in pop than it is in theatre, just because of the budgets involved," she said.
"So things I'm learning in, say, my collaborations with U2 and my collaboration with Kanye [and] I'm taking all those things and those people and ideas back into the Royal Opera House, or back into the Met."
Organisers also announced on Thursday that Warner Music's chief executive, Max Lousada, would be the new chair of the Brits Committee.
"The BRITs is the UK's biggest showcase for music talent and one of the most anticipated events in the global entertainment calendar," he said, "so to lead the team behind it is both a great honour and an exciting challenge."
This year's ceremony saw the Arctic Monkeys and One Direction receive two awards, while David Bowie and Ellie Goulding were named best British male and female artist respectively.
Viewing figures for the show dropped, however, with 4.6 million watching ITV's live UK broadcast, compared to 6.5 million in 2013.