Ed Vaizey brands arts fundraising complaints 'pathetic'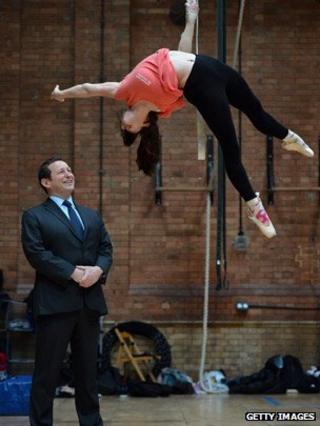 UK Culture Minister Ed Vaizey has described arts organisations outside London that cannot attract philanthropic funds as "pathetic".
The government has encouraged theatres, galleries and other cultural venues to seek private funding as government and council grants are cut.
Mr Vaizey said "every arts organisation in this country" should be able to attract philanthropy.
But his comments were criticised by figures in the arts outside London.
Mr Vaizey was asked at the House of Commons Culture, Media and Sport select committee whether it was realistic for all arts organisations to raise private funds.
"I think it's very realistic," he replied. "I can see absolutely no reason why every arts organisation in this country cannot raise philanthropic funds.
"I think there are all sorts of cultural, institutional barriers to that. I think that too many arts organisations think, 'well, we live in an area where rich people don't live, so they're not going to back the arts'. I think that is pathetic, frankly.
He added: "Philanthropy doesn't mean a cheque of £5m. It could mean a cheque of £5, it could be a cheque for £500."
Figures released last year showed that London-based organisations attracted 82% of all private donations and sponsorship to the arts and heritage in the UK.
Phil Redmond, who chairs National Museums Liverpool, said: "It's pathetic for people in London not to appreciate the severity of the problem outside London."
National Museums Liverpool runs seven venues in Merseyside. Mr Redmond said the organisation was at a disadvantage because the region's economy was not very strong and relied heavily on the public sector.
"For arts organisation in London, it's much easier for them to find a big sponsor like a Sainsbury's, a BP, Shell or whatever," he said. "But once you come outside London it's extremely difficult to find that kind of national level sponsorship on a regular basis."
His organisation is building links with local donors, but that is a long-term project, he said. "It needs to be a longer timescale than they're trying to demand at the moment."
London bubble
Adrian Vinken, chief executive of the Theatre Royal Plymouth, said people in London's arts world had "little appreciation" of the reality of wealth beyond the capital.
The Plymouth venue has raised £400,000 in private donations towards a £7m redevelopment over the past 18 months, mainly though small donations. But Mr Vinken said: "There are relatively few high net-worth individuals in this region.
"We serve a massive area and we're proud of what we've achieved here, but it's a drop in the ocean compared to what even a very small London-based organisation can achieve."
Barrie Rutter, artistic director of the Northern Broadsides theatre company in Halifax, said it had become more difficult to attract philanthropy and sponsorship since the 1990s.
"A lot more firms would take one-night sponsorships and we had the Halifax Building Society, which supported us," he said.
"Now all of that has gone. Their head office is in Scotland and you have to apply three years ahead for funding, and we don't know what we're doing in three years time."
Difficult - but not impossible
Mark Robinson, a Teesside-based cultural strategist and director of Thinking Practice, said the minister "drastically underestimates" how difficult it is to raise private funds in some areas. "Although he is right to say it is possible," Mr Robinson added.
"It's a shame Ed Vaizey paints this as a kind of 'can't be bothered' attitude, as this does a disservice to lots of people working very hard.
"We'd be better served by him talking to local authorities about funding for culture, a more urgent risk to most arts organisations."
A new arts fund for Newcastle was launched on Tuesday with a £50,000 donation from a former vice chancellor of Newcastle University - although he told The Journal newspaper this came about as a result of "a total accident".