Mr Burns: 'It's not a play about The Simpsons'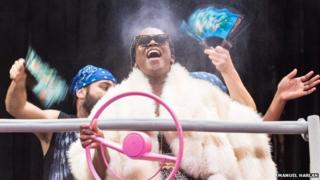 The Simpsons has been a TV fixture for 25 years. But how will the world's most famous cartoon family be remembered in a post-apocalyptic future? A new play, Mr Burns, offers some answers.
"It's not a play about The Simpsons," explains American playwright Anne Washburn. "It's a play about people for whom The Simpsons are important."
Mr Burns, just opened at London's Almeida Theatre, is set in an America without electricity after the collapse of civilisation.
The play begins with several survivors sitting around a campfire trying to recall their favourite episode of The Simpsons.
That episode turns out to be 1993 classic Cape Feare, in which Sideshow Bob - voiced by Kelsey Grammer - is released on parole and sets out to kill Bart, forcing the Simpsons into a witness protection programme. The entire plot was a riff on Martin Scorsese's 1991 remake of Cape Fear.
The second act of Mr Burns is set seven years after the first, and the third continues the story - as a musical.
So why base a play on The Simpsons? "I knew I wanted to take a sitcom of some kind and push it forward," says Washburn when we meet at the Islington venue during previews.
"I did think about Friends, and Seinfeld and Frasier. It turns out The Simpsons is good to work with because it's about a family and a community, and that's a set of concerns that would be important after the apocalypse."
She's well aware that The Simpsons is still an enormously popular show and a whole generation has grown up with it.
"People who really love The Simpsons love to trot out lines. The survivors talk about The Simpsons in the first act because it binds them and comforts them - and it's a distraction."
Like the cartoon series that inspired it, Mr Burns has been around a long time. Washburn sat on the idea for many years and then dusted it off in 2008 after a commission from New York theatre group The Civilians.
The first act of the play took shape in a former bank vault underneath Wall Street, which had been turned into a rehearsal space.
"We went through multiple security guards and down in an elevator," says Washburn. "There were shadowy corridors, and at the end was a creepy little room with fluorescent lighting and a huge thick door with one of those big wheels."
Over two or three days, the playwright asked a group of actors to try to remember episodes about Springfield's famous yellow family.
"They had a really good memory for Cape Feare. It's a really popular one. The first 10 minutes is mainly their words - it got edited and massaged, but it's their recall."
The result was Mr Burns, which had its world premiere in Washington DC in 2012 and played off-Broadway in New York in 2013.
Now it's arrived in London with a new score written for a British audience.
Washburn cites two two major influences on the play. The more obvious one is Stephen King's post-apocalyptic 1978 novel The Stand.
The other is Euripides' ancient Greek play Orestes from 408 BC. "What I love about the Greek plays is that they are this perfect structure for story and song and dance," says Washburn, who worked on an adaptation of Orestes in 2010.
"I wanted the third act of Mr Burns - which should not be compared in majesty or success to a Greek drama - to have that same sense of them working together."
Washburn hopes that non-fans will enjoy the show as much those who can quote whole Simpsons episodes off-by-heart.
But she anticipates mixed reactions. "People tend to love it or they tend to hate it. They don't tend to fall in the middle.
"The degree to which people have a completely different response to the same thing that everyone has watched at the same time is a great mystery and [the] joy and frustration of doing theatre."
Mr Burns is at the Almeida Theatre until 26 July.