Sarah Lucas leads Threadneedle Prize show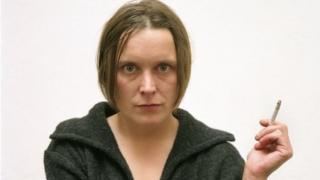 Sculptor Sarah Lucas has been added to this year's prestigious Threadneedle Art Prize exhibition as part of a newly announced Curated Space section.
Lucas, who is to represent the UK at next year's Venice Biennale, will see her work displayed alongside several other well-known artists.
They include Chantal Joffe, Daniel Silver, David Lock and Georgia Hayes.
None will compete for the prize, awarded to one of around 100 artists selected to be included in the show.
The theme of the work chosen for the Curated Space is figurative art, which has long been the focus of the Threadneedle Prize and exhibition since they began six years ago.
Lucas is known for the bawdy, humorous but challenging nature of her work.
She works with a range of materials, including photography, collage and found objects, often using them as representative substitutes to the human form.
Chantal Joffe, David Lock, Georgia Hayes, Grant Foster and Vicky Wright are all figurative painters. Daniel Silver is a sculptor.
Their work has been chosen by art critic Sacha Craddock.
"I am happy to bring a range of work I admire to run alongside The Threadneedle Prize," said Craddock.
"Whether historical, futuristic or current, figurative art surrounds us.
"It represents experience with a range of scale, from the surface of the skin to an overview of existence."
Figurative art is a term given to works that depict objects recognisable to the viewer.
The winner of the Threadneedle Prize receives £20,000 and a solo show at the Mall Galleries.
They are selected from artists whose work is displayed in the special pre-award exhibition. Each year more than 4,000 artists enter in the hope of being chosen for the open show and prize.
A further Visitors' Choice prize of £10,000 is also handed out, based on the votes of those who go along to the show.
Craddock will be adding further names and works to her final selection, which will be unveiled at the opening of this year's Threadneedle Prize exhibition at London's Mall Galleries on 24 September.