Sir Alan Ayckbourn voices fears over theatre screenings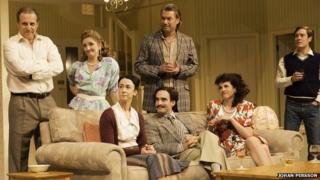 Playwright Sir Alan Ayckbourn has expressed fears that live screenings of plays in cinemas could spell trouble for theatres around the UK.
Venues like the National Theatre and RSC regularly beam plays to cinemas.
Sir Alan ran the Stephen Joseph Theatre in Scarborough for 37 years.
He told the BBC: "One's fear, which may be groundless, is that eventually we and our equivalent theatres will stop doing plays and they'll all be streamed live from these centres of excellence."
Imitating an announcer, he continued: "'Straight from the RSC', 'Straight from the National', 'Straight from the Royal Court'.
"It's an invidious solution because audiences, unless they've been there in London, will not have the effect of watching live performance.
"They'll have a second-hand live performance, which isn't really what we're after."
Venues like the National and RSC are broadcasting an increasing number of plays to cinemas around the world.
One of Sir Alan's plays, A Small Family Business, will itself be beamed live from the National to cinemas on Thursday.
Under its National Theatre Live banner, the National has screened 30 productions since 2009, including War Horse, The Curious Incident of the Dog in the Night-Time and Frankenstein.
The RSC followed suit last November with a broadcast of Richard II, starring David Tennant.
Sir Alan is one of the UK's most popular playwrights and will unveil his 78th play Roundelay at the Stephen Joseph Theatre in September.
The venue is one of 550 to be screening A Small Family Business in the UK on Thursday.
'Orchestrated' action
Recalling TV broadcasts of his plays in the 1960s, Sir Alan said they did not capture the full experience of watching them in person.
"I don't have a camera in mind when I'm writing," he said. "I just say, there are four people on the stage and they're all reacting differently and the human eye can take it all in.
"But you got the sense that the poor television director and vision mixer were whipping around trying to get it all in, or you missed some of it because you decided to settle on one face. So it's not the same."
A Small Family Business is set in six rooms, with action often going on in more than one part of the set at the same time.
"There's an awful lot of people milling around," Sir Alan said.
"Unless you put a camera bang in the middle of the stalls and shoot the whole thing in long shot, which is probably the only way to get all that in, you're going to have to start to make decisions on which room you're going to be in.
"What is nice about A Small Family Business is they're talking down here and there's a girl up there slowly doing what she's doing. That is secondary action. It's orchestrated.
"I hope that people who haven't seen it on stage will actually enjoy it when they see it streamed. It depends how good a job they do with it."
'Capture the experience'
The National Theatre's head of digital, David Sabel, said research would soon be published showing that its cinema screenings did not eat into regional theatre audiences.
"We've always seen NT Live as a complement to the live experience, not a replacement," he said.
"Alan's agreed for us to broadcast the show, so hopefully he's looking forward to it. It's not the first time we've had someone who's been sceptical and I can absolutely understand his concerns. I hope the proof will be in the pudding and he'll be converted."
Filming techniques have moved on since the days when Sir Alan's plays were filmed in the 1960s, Mr Sabel added.
"We've got seven cameras that have been chosen to go exactly where they should go to best capture the show and give people the best experience on the big screen."