Arsenal-inspired choral piece debuts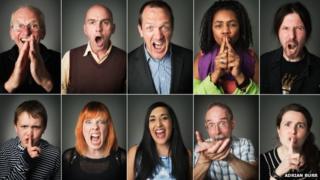 A piece by a prize-winning composer, inspired by a visit to an Arsenal football match 20 years ago, has premiered in Birmingham.
About 1,000 local people performed Crowd Out, described by US composer David Lang as being "an orchestra of people using their voices".
The majority of the piece was not sung, with the crowd instead speaking, talking and murmuring.
Numerous amateur choirs had been rehearsing since last year.
The 45-minute recital took place at Birmingham's Millennium Point on Sunday.
"I feel anxiety, I feel awful and I wish to be alone," some people shouted.
Others sang or clapped, while performers walked round the venue chanting phrases such as "I start to panic".
"I had some ideas of what it was going to sound like, but not all, but I think that's one of the thrills of this," Lang told Reuters after the performance.
Choir director Simon Halsey conducted from a vantage point about halfway up a tall escalator between the ground floor and one of the balconies.
He and an assistant also used coloured flags - blue, green, yellow and red - to indicate what each group of singers should do next.
Lang was inspired by his only visit to a football match - at Arsenal's Highbury Stadium in 1994.
But it wasn't what happened on the pitch which interested him.
"I was incredibly excited to hear all of these people in this crowd yelling and singing and screaming," recalled Lang.
"They had these hilarious songs that were incredibly lewd. The sound was amazing. To hear a tune start on one side and circle around was very exciting.
"But thing I really loved the most about it was that everyone seemed to have been invited to join in and be part of this music-making," he said.
Lang's football trip prompted the piece - but those expecting to hear chants about Ian Wright or David Seaman were disappointed.
"I wanted to make sure that the sound of Crowd Out wouldn't remind us of the kinds of crowds that we might normally be in in our lives.
"It's not a religious crowd. It's not a political rally. It's not a sporting event crowd.
"I just really wanted to pay attention to the things we may lose about ourselves when we decide to join other people to do something. That's why the piece is called Crowd Out."
Crowd Out will next be performed in Berlin and then in London as part of the Spitalfields Summer Festival.