Jarvis Cocker questions 'abrasive' Metallica at Glastonbury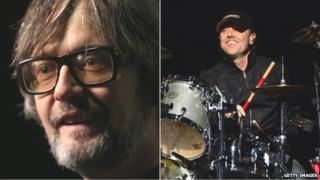 Jarvis Cocker has called heavy metal band Metallica an "interesting choice" to headline Glastonbury, but has raised fears they could be "a bit abrasive".
The Pulp frontman told BBC 5 live that fans were often in a "fragile" state.
"They've probably not had much sleep and they've been indulging in certain things. So the main thing is to be a vague, warm, friendly presence."
"Whether a full-borne rendition of 'Enter Sandman' is going to fill those criteria I don't know," he added.
Last month, it was announced US metal veterans Metallica would headline the Pyramid Stage at Glastonbury on Saturday 28 June.
However their debut appearance at the festival - the first time a heavy metal band has headlined the event - has been met with some scepticism.
Both the band and Glastonbury Festival founder Michael Eavis have defended the decision, with Eavis saying the festival welcomed "all kinds of music".
"The fact that everyone's got an opinion I'll take as a good thing because it means that people still care and are still interested," Metallica drummer Lars Ulrich told BBC Radio 1 last week.
'Entertained'
Pulp played the same headline slot as Metallica in 1995, when The Stone Roses had to withdraw.
Cocker added that he would be at the festival again this year, to do some DJ-ing on the Friday night.
The singer was speaking at the premiere of a Pulp documentary - A Film About Life, Death and Supermarkets - in Sheffield on Saturday.
The film is one of 130 documentaries being screened at the Sheffield Doc/Fest, which runs until 12 June.
Cocker, who was born in the city, said the documentary was "as much about Sheffield as it is about Pulp" and that he hoped fans would be "entertained".