New Secretary of State wants 'culture for all'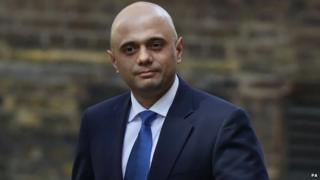 Culture Secretary Sajid Javid has urged the arts community to ensure that "culture is for everyone", during his first keynote speech in Bristol.
"I believe that the colour of your skin, the size of your bank balance and the town where you live should not be a barrier to participation and progress," said Mr Javid.
He added: "We can and we must do more to make that vision a reality."
Mr Javid took over the role from Maria Miller after she resigned in April.
In his first major speech to the arts sector since taking up the post, he said that "too many Britons are culturally disenfranchised" and "excluded from what should be our shared cultural life".
He told the audience at St George's, a former church-turned-concert hall in Bristol: "I'm going to make one request of you today. I want you to make what you do accessible to everyone."
Mr Javid added: "Never forget that every penny of taxpayer support and lottery cash that goes to culture has been provided by hard-working people from every community in the UK."
Star Trek fan
The Culture Secretary, the son of Pakistani immigrants, talked about his time growing up in Bristol on a road described as "Britain's most dangerous street".
"For a bus driver's son in that world, the idea of popping along to the Donmar Warehouse - or even the Bristol Old Vic - to take in a cutting-edge new production was simply not on the agenda.
"It wasn't what people like me, people from my background, did."
He singled out Lenny Henry, who is among those looking at achieving more diversity in the TV industry, and urged others to help bring people in to the arts sector who did not have help from "the bank of mum and dad".
Mr Javid admitted that he had "a pretty mainstream cultural education", the kind that "millions of Britons will recognise"- name-checking Star Trek, Star Wars, U2 and Michael Rosen during his speech.
He used the quote, "culture is based on freedom and self-determination", before adding "that's Captain Jean-Luc Picard. The Next Generation, season three, episode 26."
However Mr Javid said he had always been aware of the "power of culture" and had witnessed things that had "genuinely moved" him.
Banker jokes
Mr Javid spent time as Treasury Secretary before taking up his current role, which also deals with broadcasting, sport, media and tourism.
He opened his speech by jokily referring to speculation over his credentials for the job and whether his career in finance meant he was "insufficiently artistic".
"As we're in a church I'm going to start by making a confession. My name's Sajid Javid. And I used to be a banker. No point denying it," he said.
"When I became an MP back in 2010 I had a unique sensation - I was the only member of the new intake who was moving into a more popular profession!"
He also confirmed "the rumours" that he has a picture of "the great Baroness Thatcher" on the wall of his office.
'London billionaires'
Mr Javid also addressed concerns about funding for regional arts institutions, hinting he was not one of those people who "only care about what happens inside the M25".
He suggested there was "another potential source of income" in philanthropists, and said he would be encouraging them to support culture across the UK and working with smaller organisations to help them become fundraisers.
"I read recently that London is home to more billionaires than any other city on the planet," he said.
"One of the reasons such people choose to live here is our world-beating cultural scene and there's no reason why they can't do more to support it."
He highlighted Sir Michael and Lady Hintze's recent £5m donation to the Natural History Museum, adding "I want to see more of our most successful citizens and residents doing the same."