Branagh takes Macbeth to New York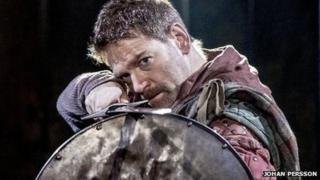 Kenneth Branagh has won largely favourable reviews on his New York debut, for his performance as Macbeth.
The play has transferred from a small deconsecrated church in Manchester to the vast drill hall of the Park Avenue Armory.
Co-directed by Branagh and Rob Ashford, the production brings the audience close to the action, dividing them in to Scottish clans as they arrive.
The Hollywood Reporter called it a "riveting staging".
"Theatregoers who insist on poetic oratory and subtle textual exploration might be resistant to Branagh and Ashford's bold directorial approach," wrote Ben Brantley.
"But this is a riveting staging, unblinking in its lucidity as it exposes the ugly essence of power and brutality with a starkness that makes it impossible to look away. Just the use of the long corridor-like performance space alone is mesmerising, often requiring the quick attention shifts of a tennis match."
Mud and rain
Macbeth is a co-production between the Manchester International Festival, where the play opened last year, and the Armory.
Alex Kingston, instantly recognisable to TV viewers from ER and Doctor Who, is once again playing the ruthless Lady Macbeth.
The New York Times' Ben Brantley said: "The cast, which includes some welcome new additions, is even stronger than it was when I saw Macbeth in Manchester. Everybody is marching to the same spectral drummer here, and everybody keeps both anger and fear close to the surface."
The immersive production sees the the audience split in to clans and seated in high-tiered seats surrounding the staging area - and often at the mercy of mud and rain spatter during the battle scenes.
The Guardian's Alex Soloski wrote: "The text, seemingly edited with a halberd, is not really the focus. Rather, it's the cinematic stage pictures and the filmic score, the pouring rain and the open flame, the floating dagger and the flying witches. It is enthralling, eerie, and very likely a case of style over substance. But what style!
But the Wall Street Journal critic was underwhelmed by the play.
"Nobody in the cast makes much of an impression, since the extreme length of the arena prevents the viewer from focusing on anything in particular," wrote Terry Teachout.
"This, I very much regret to say, includes both Mr Branagh, whose Macbeth is briskly and boringly spoken, and Alex Kingston, whose Lady Macbeth is by turns self-consciously sexy and exaggeratedly hysterical."