Russian Young British Artist exhibition cancelled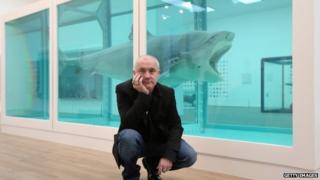 A retrospective of the Young British Artists movement, set to be held in Russia, has been cancelled because of a lack of funding.
Reports had suggested that the British Council's exhibition was called off over international tensions over Ukraine.
The YBA show was to have been one of the highlights of the UK-Russia Year of Culture.
The British Council said it hoped the exhibition would eventually go ahead.
"Our partner and host venue, the Ekaterina Foundation, for reasons outside its control, has reluctantly had to withdraw due to not being able to raise the sponsorship funding they had originally been confident of achieving," it said, in a statement.
"We've worked together to investigate a possible alternative venue - but this has proved problematic at this late stage. We have therefore agreed to postpone the exhibition, with a view to mounting it at the Ekaterina Foundation in 2016, and we hope that this will be possible."
London Calling: Breakthroughs in British Art, 1986 - 1999, which was due to open in September, was to have been the first major Russian exhibition of artists from the YBA, which includes Sam Taylor-Johnson, Marc Quinn and Damien Hirst.
The exhibition was also set to feature works included in the Freeze (1988) and Sensation (1997) shows, which brought the artists worldwide recognition.
The premise of the UK-Russia Year of Culture is to showcase the best of each country's heritage, with Shakespeare heading to Russia, and Russia's Space Quest exhibition due to run at the Science Museum in London.