Law and Order: UK 'to be rested' by ITV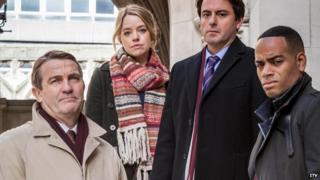 Law and Order: UK is to be "rested" after its star, Bradley Walsh, announced he was leaving the show.
Based on the long-running US series, the UK version began in 2009 with Walsh in the role of lead police detective Ronnie Brooks.
ITV said the final episode of series eight, to be broadcast on 11 June, would be the last "for the foreseeable future".
Walsh said he was leaving to "pursue other drama projects".
The star - who also hosts game show The Chase - was nominated in the best TV detective category at the National Television Awards earlier this year for his role in the police drama.
"It's been an absolute pleasure to inhabit Ronnie's Mac for as long as I have," Walsh said.
'Proper send off'
"Eight series is a wonderful achievement for everyone involved in the production. This has been one of the hardest decisions I have ever had to make.
"I hope one day to revisit him, but for now I'd like the opportunity to pursue other drama projects which ITV are developing."
He added: "I'd really love fans of the series, old and new, to watch the final episode to give the series a fitting and proper send off."
Law and Order: UK regularly attracted more than six million viewers an episode when it launched in February 2009.
The latest series, which began in March, has averaged around 5.1 million viewers.
"There may well come a time when we re-visit Law and Order: UK," said ITV's director of drama commissioning, Steve November.
"For the moment, we'll be resting the series whilst we continue to refresh our drama slate."