A Girl is a Half-formed Thing is 'an astonishing book'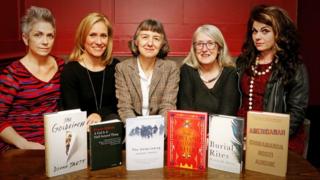 Irish author Eimear McBride has won the Baileys Women's Prize for Fiction with her debut novel A Girl is a Half-formed Thing.
McBride, who spent nine years trying to get the book published, picked up the £30,000 prize at a ceremony at London's Royal Festival Hall.
Helen Fraser, chair of the judging panel, tells the BBC arts correspondent Tim Masters why McBride's stream-of-consciousness novel came out on top.
Why did it win?
It was a really astonishing book. We felt that from the first time we read it - it stood out from the crowd. It was very unlike anything else we read.
It's incredibly original. It has a raw energy we all responded to. It has real lyrical qualities even though the subject matter can sometimes be so shocking.
It has a great narrative drive. It is the story of a girl trying to find meaning in her life in incredibly difficult circumstances - with her sick and damaged older brother and her repressive Catholic family who make her feel that everything she does is bad. It's about the way she tries to break out of that but damages herself immensely in the process.
Despite being such a shocking and sometimes tragic novel it has an incredibly positive energetic charge.
How unanimous were the judges?
It was an amazing shortlist - six very extraordinary books. We very quickly got down to two books which we spent three or four hours discussing. We loved both of them, they were very different. But shortly before midnight we decided that Girl was the one for us.
What is remarkable about Eimear McBride's use of language?
She uses language to reflect the state of mind of her heroine. When she is under tremendous pressure the language becomes chaotic.
It's shot through with the language of Catholicism and the language of the Mass. It's interesting that the rhythms of religion inhabit the prose.
So do you have to be an adventurous reader to enjoy this?
When you start reading this you think, 'How am I going to get on with this?'. Within two or three pages you are drawn in and really in her head. You're not thinking about where the full stops come, or that there aren't complete sentences. You are just swept along with her story. This is not a novel for advanced readers only.
Why do you think this debut novel has already enjoyed so much success?
She wrote it in six months when she was 27 and then it took her 10 years to find a publisher. When she moved to Norwich, it was complete serendipity that it was taken on by the Galley Beggar Press. Since then, everything good has happened to it.
She didn't compromise and make it like every other book. She kept on with her conviction that her own voice and originality was the way to go - and that paid off.
We had the readings at the Queen Elizabeth Hall last night. When Eimear came up to the podium, there was a roar from the crowd. She had people out there who are already passionate about this book. A lot of the questions from the audience were addressed to her.
This book already has a popular groundswell. What we hope is that winning the Baileys Prize is going to get it into thousands more hands.
There have been comparisons made to James Joyce and Samuel Beckett - are they fair?
Certainly Joyce - with its use of language and that sense of Irish-ness and Catholicism and history imbuing everything that this very 21st Century girl is doing with her life.
How do you see Eimear McBride's future career?
It's a very contemporary book and a very relevant book when you look around at everything that's happening today.
I predict a great future for Eimear McBride. She's a truly original voice.