Olly Murs receives award for most played artist of 2013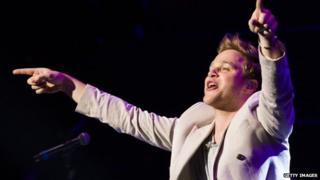 Former X-Factor runner-up Olly Murs was the most-played pop star of 2013.
The singer topped the chart released by music royalty body Phonographic Performance Ltd (PPL), based on TV and radio airplay, as well as on adverts and in venues like pubs and clubs.
Murs' songs were played more than tracks by the likes of Bruno Mars, Katy Perry, Rihanna and Justin Timberlake.
His 2012 number one hit Troublemaker was also the ninth most-played pop track of the year.
"I'm absolutely delighted I've won this award," Murs said.
"I'd like to thank all the writers and producers on all the records that I've done, they've been incredible, of course the TV channels, the radio stations, the pubs, the clubs, the bingo halls, whoever has played my songs."
The most-played pop track of the year was Daft Punk's Get Lucky featuring Pharrell Williams and Nile Rodgers, followed by Robin Thicke's Blurred Lines, also featuring Williams and rapper TI.
---
Most-played artist 2013
Most-played track 2013
1. Olly Murs
1. Get Lucky - Daft Punk ft Pharrell Williams and Nile Rogers
2. Bruno Mars
2. Blurred Lines - Robin Thicke ft Pharrell Williams and TI
3. Pink
3. Mirrors - Justin Timberlake
4. Rihanna
4. Locked Out Of Heaven - Bruno Mars
5. Calvin Harris
5. Just Give Me A Reason - Pink ft Nate Ruess
6. Robbie Williams
6. Let Her Go - Passenger
7. Justin Timberlake
7. Wake Me Up - Avicii
8. Katy Perry
8. La La La - Naughty Boy ft Sam Smith
9. Taylor Swift
9. Troublemaker - Olly Murs ft Flo.Rida
10. Queen
10. When I Was Your Man - Bruno Mars